Materials and assembly
The durability of the kitchen, and the optimum functioning of its elements depend on the configuration and elements of the module. Therefore the module design, construction and components are designed to keep them as the first day.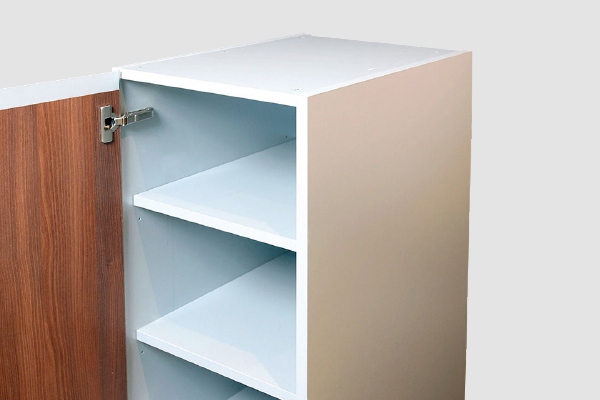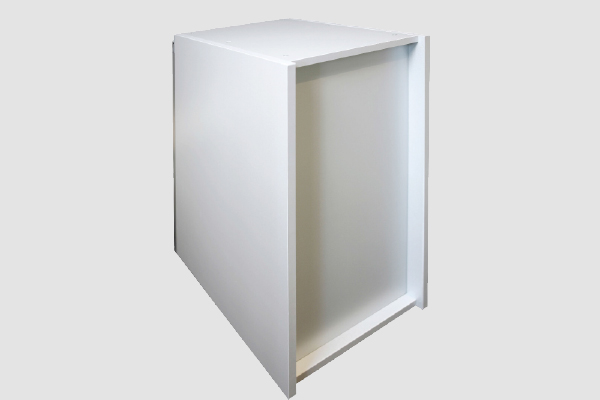 The module is the base for a long life of the kitchen and is responsible for the doors, fittings and all other elements to function optimally.
It is made of 19mm thick material, which is synonymous of a great strength, stability and durability. The board is coated with a high density melamine treated to repel dirt and moisture. All edges are coated 1mm ABS material, non-polluting, bonded with PUR glue, thanks to its adhesion and water and temperature resistance avoid the board swelling or edge detachment. It is a system that also respects, to the maximum, the environment, as it is free of formaldehyde and solvents.
The back of the furniture is an important part of its structure. They influence their stability and rigidity, helping to its squareness and duration. Its thickness is 8 mm, which guarantees the stability of the cabinet.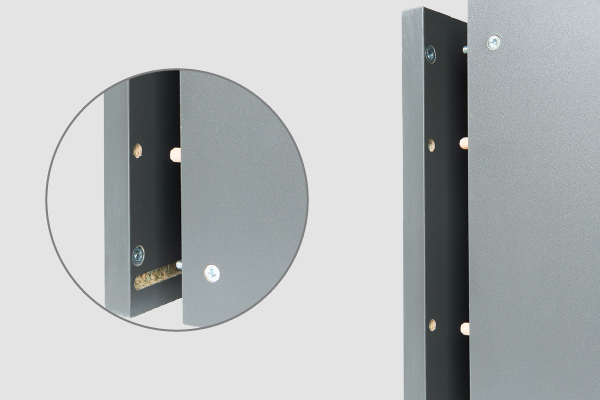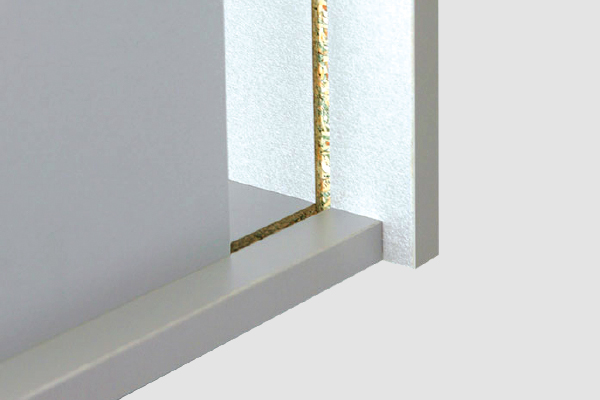 If in addition to excellent furniture materials are solidly armed, they will guarantee an extraordinary life without going out of position or suffering movements that may give way to moisture, condensation or dirt.
Our units always include a cover which rests on the worktop, except sink and plate furniture that carry a specific equipment. The modules consist of two sides, base, top and back, form a set of high strength, non-deformable, which prevents dirt or aggressive agents.
The features of the assembly system are based on the use of pins and special fittings. This double armed system gives resistance and stability superior than traditional methods. With this system the furniture can be assembled and disassembled without losing their characteristics.
The back is advanced creating an air chamber that provides ventilation; It is housed in a slot for a more solid construction.
Module
Here we present some of the most characteristic and important with which we set our furniture, in order to provide them with maximum security, strength, stability and functionality details.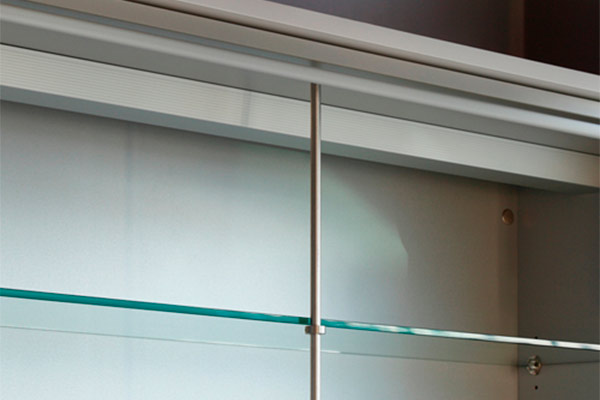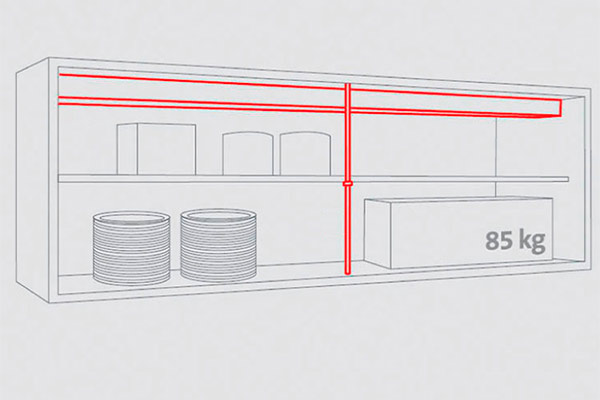 Anti-flex system
The wall units greater than or equal to 900 mm width incorporate a specific system to prevent the shelves and bases flex with the weight of dishes or utensils that store.
It consists of a stainless steel strut that connects the roof and base, with intermediate supports that serve as central support for shelves, reinforcing its stability. A profile at the top of the cabinet side by side reinforces the roof of the cabinet preventing flex. This "anti flex" function is also transferred to the shelves and to the base through stainless steel strut.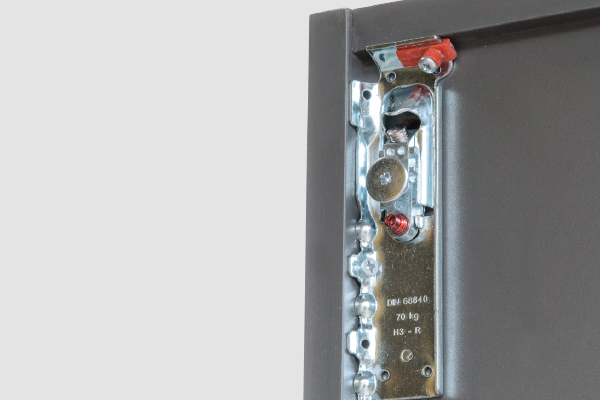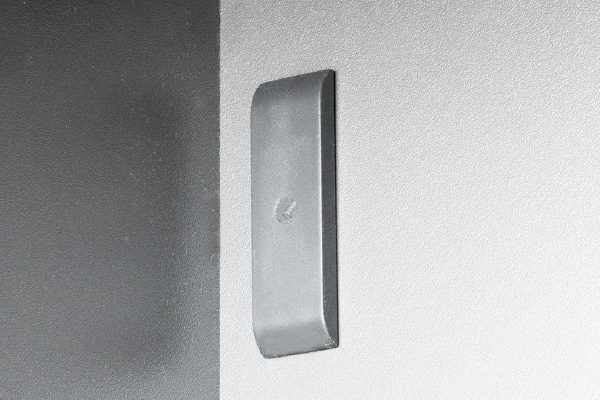 Hanger
The wall units incorporate a system that firmly attaches furniture, preventing move or sag, ensuring maximum safety and comfort. They also incorporate an anti-dump safety system. They can hold up to 130 kg per module and are perfectly hidden behind the back of the cabinet, extending the interior storage space and facilitating cleaning it.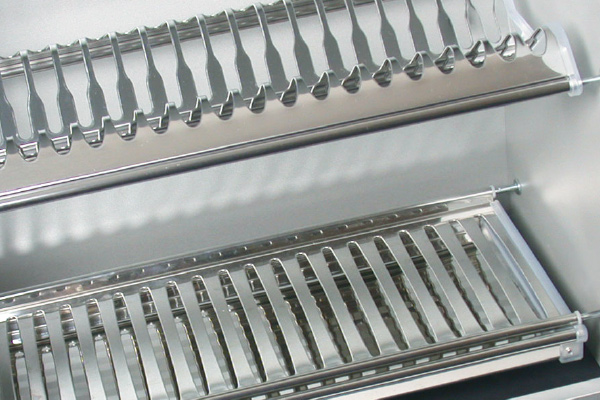 Plate rack
Our dish drainer standard hardware is of extraordinary quality, robust and secure, firmly anchored side by side, without supports, which prevents plates and other pieces fall off or tip over. With built-water collection tray. Resistant to bending full load, promoting optimum use of space. It also has silverware accesories. All while maintaining maximum security and stability.
Drawers furniture
The drawers are genuine modern design and technological, with soft and silent movements and progressive closure, endowed with great stability and strength. They are almost isolated compartments where it can hardly get any dirt or moisture. Drawers for pans 270 and 405 mm high, carry the back of double height of a standard drawer, to allow attachment of a metal rod of rectangular on each side, as a fringe section.
They can resist a weight of up to 70kg maintaining its progressive movement, soft close, stability and perfect operation. They have a system against accidental removal of drawer guides. They are easily removable and adjustable.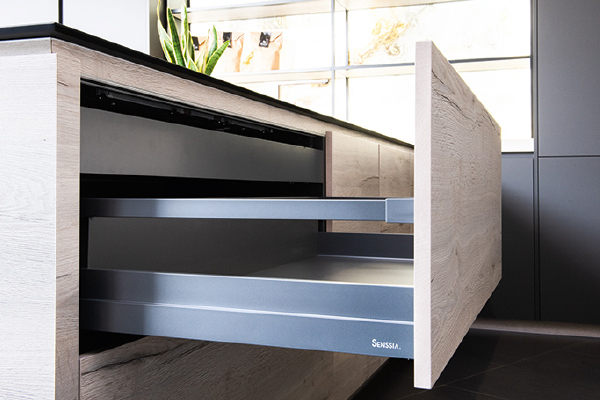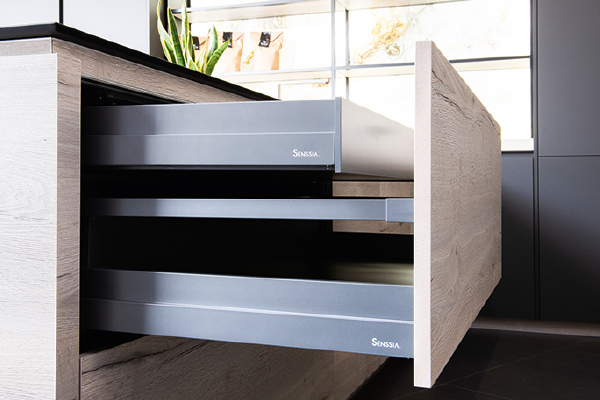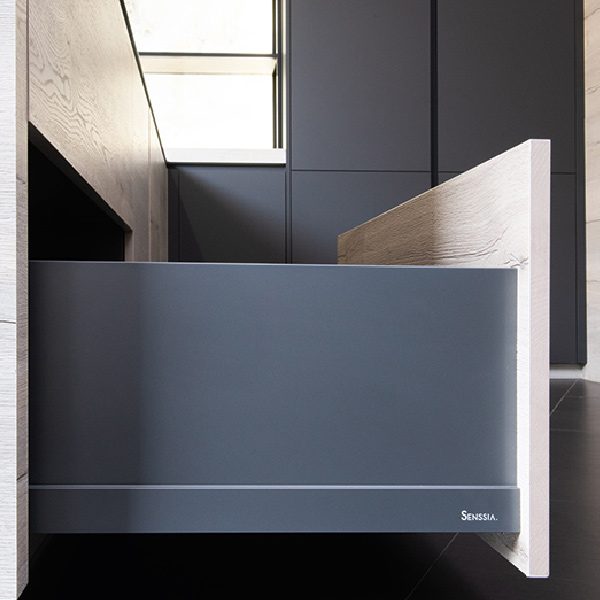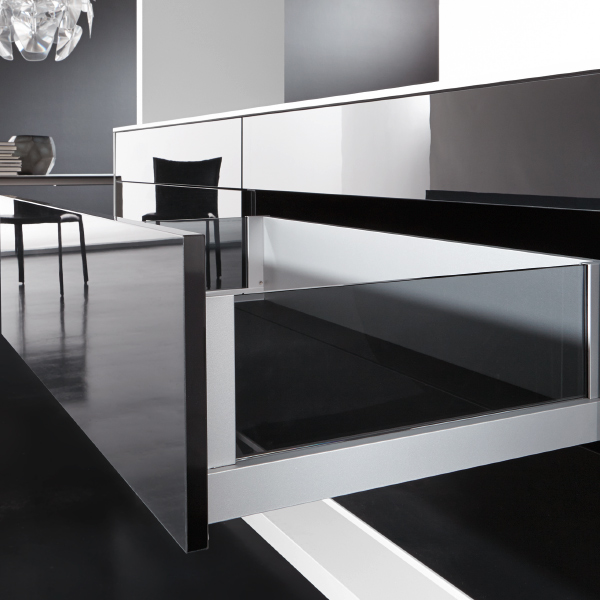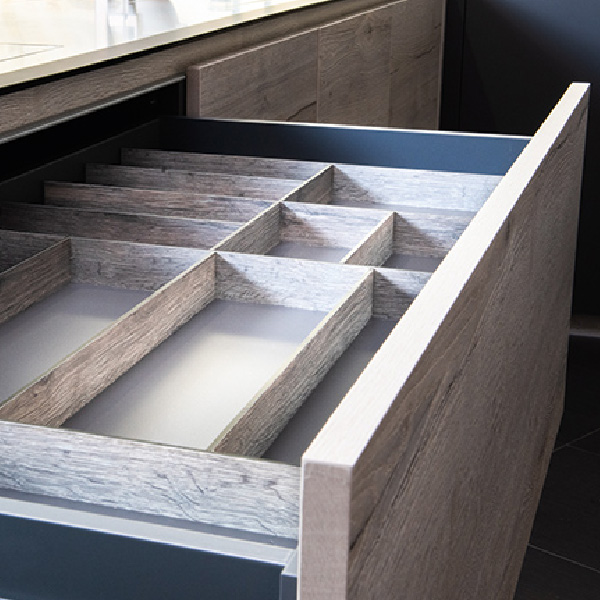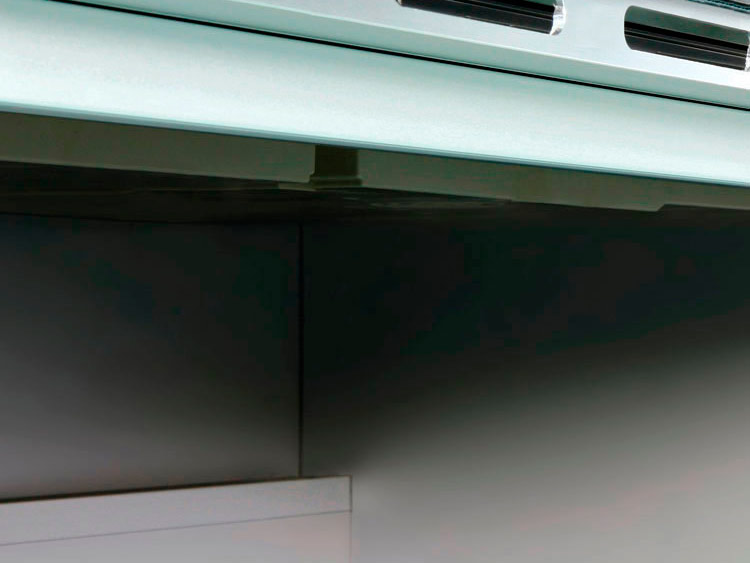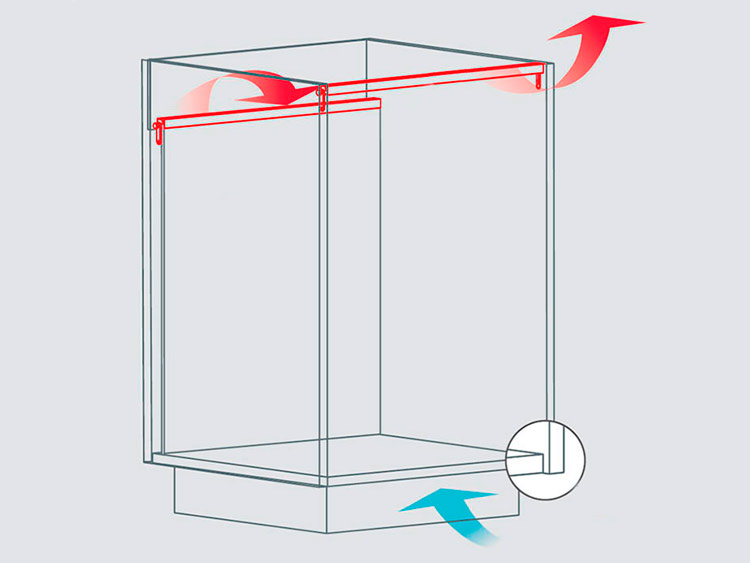 Range units
Range units are designed for maximum strength and durability. Using a tube of anodized aluminum, which provides support for the counter in the front of the cabinet, we bring strength to the assembly; and with the back cut height we will favor ventilation inside the cabinet.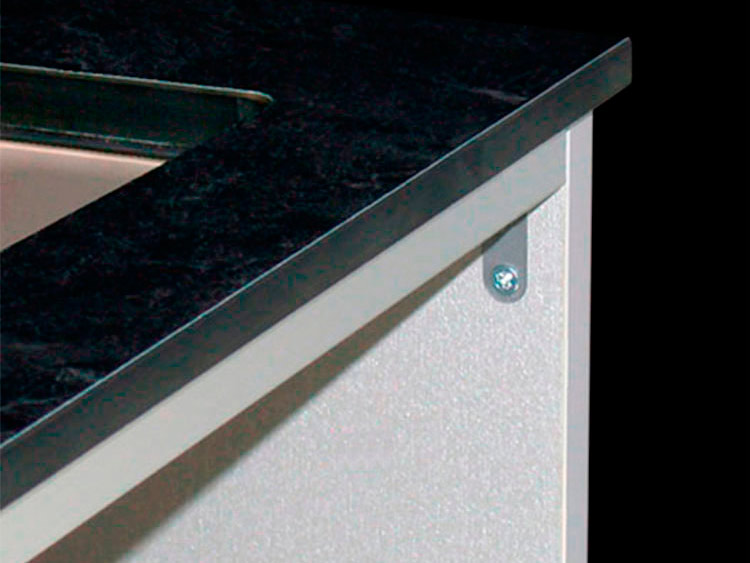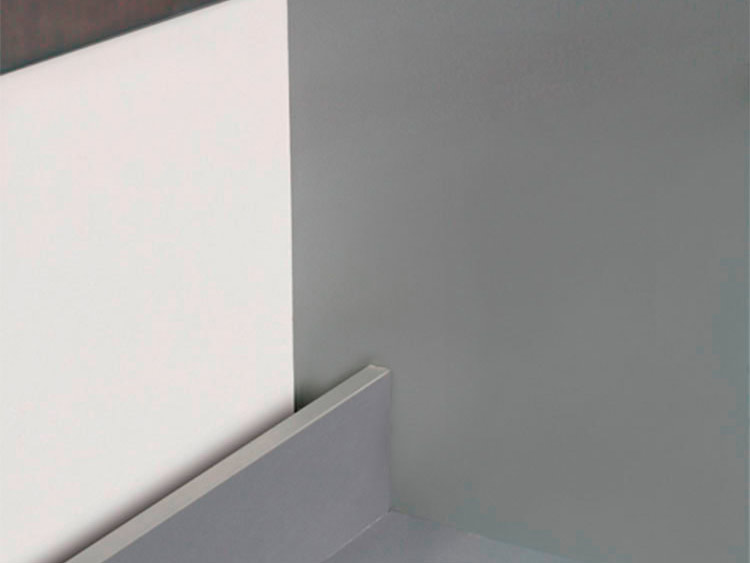 Unit for sink
With a very defined assembly system, the units for sink have a very strong bond between the sides and a high resistance to the weight of the countertop. The base is recessed to allow passage of shots washing machines and dishwashers (without making cuts) and base coated with special melamine laminated board makes it very resistant to moisture.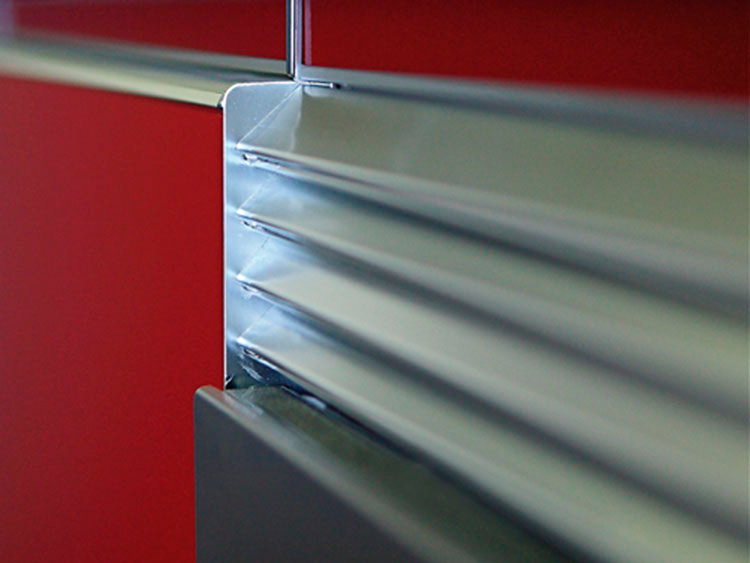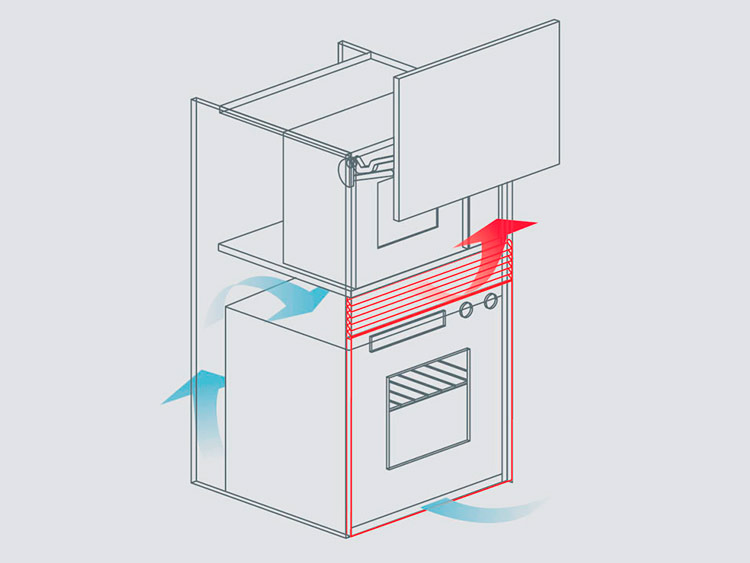 Frame-grille unit for oven
The most exposed to heat furnishings include extra items that reinforce their protection. Low units or column oven incorporating a grid framework that favors the oven vent heat and insulates the adjacent units. An element of own completely surrounding the furnace thereby preventing heat damage to adjacent units.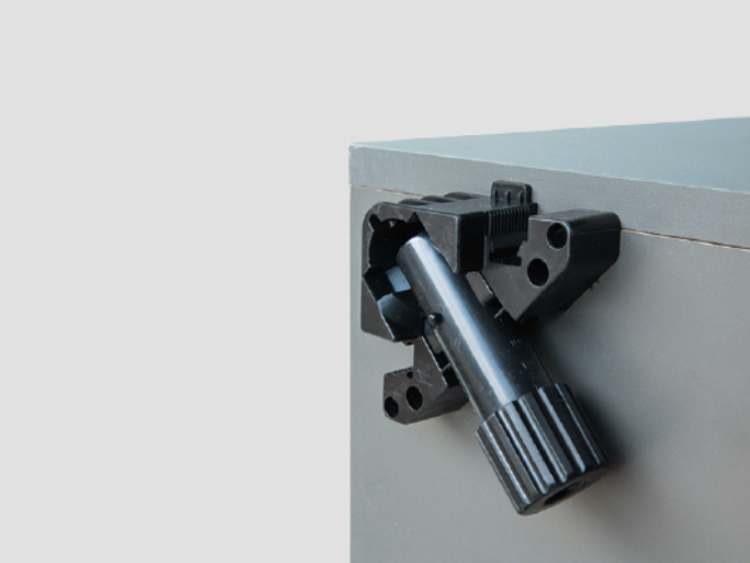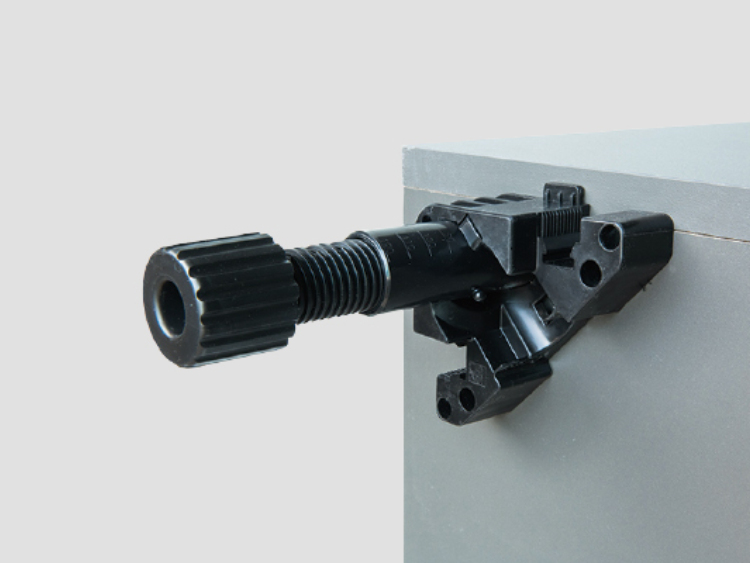 Legs and plinth
The legs of our low furniture and columns are set at three points, and on them the side of the cabinet is also supported. They are adjustable in height.
The plinth is an element of our own design, made of stainless brushed aluminum effect, designed to engage the legs. It has a hidden profile seal on the lower edge. Both elements form a very stable assembly that enables your kitchen can remain unchanged for many years.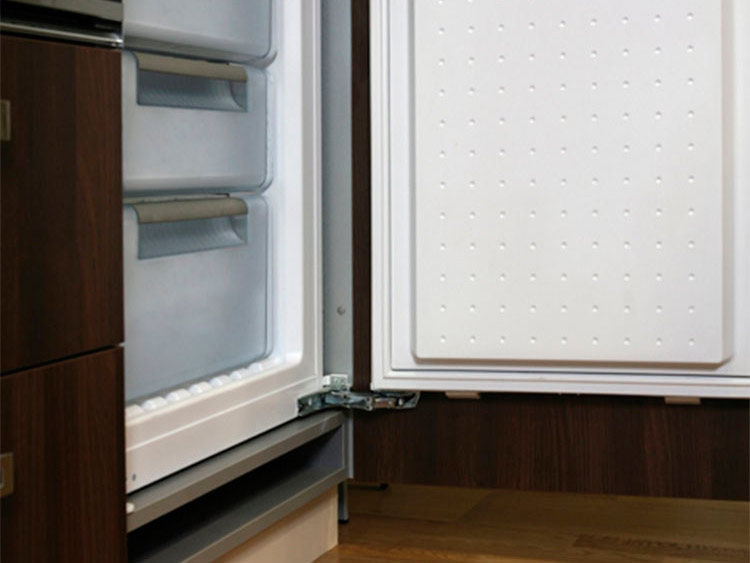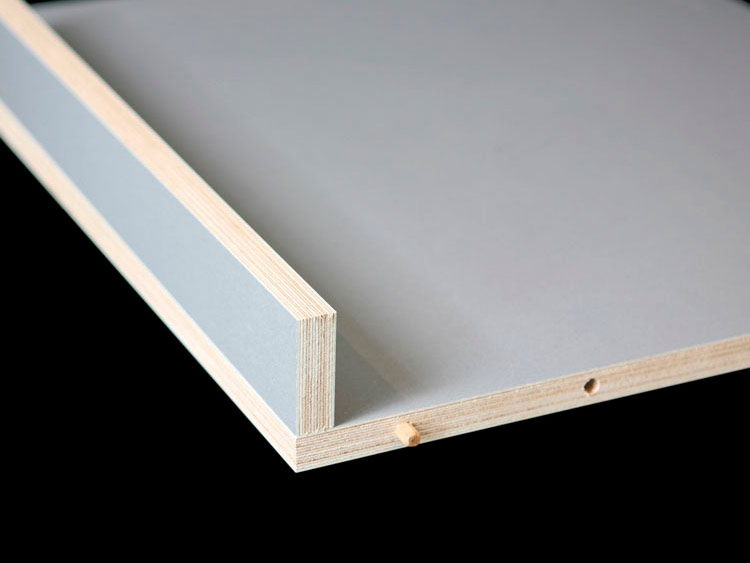 Integrated refrigerator Units
To provide greater resistance to weight and moisture in areas of water or cold, we manufacture the sink units and integrated refrigerator units bases with marine board, highly resistant to attack by bacteria and fungi that occur in humid areas. Our furniture for built-in refrigerators are adaptable to any existing models, and also incorporated seamlessly with the rest of the kitchen furniture.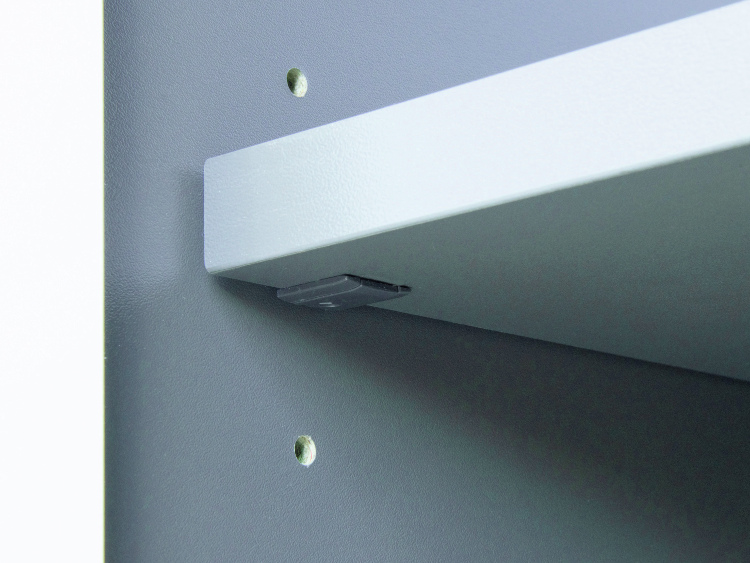 Melamine sherlves and shelf supports
19 mm thick shelves covered in high density melamine, free of electrostatic charges.
Shelf supports are inserted in the shelves to fix them and avoid movement or dumping. Shelves can be high regulated to optimize storage.
Glass shelves y and shelf supports
All our glass-fronted units are fitted with high safety tempered glass shelves. Should a shelf break the glass shatters into small pieces, thus avoiding the kitchen users being hurt. They promote a better use of space and easy cleaning inside the cabinet.
Shelf supports are metal based. They fix the shelves to the module and prevent movement or dumping. Shelves can be high regulated to optimize storage.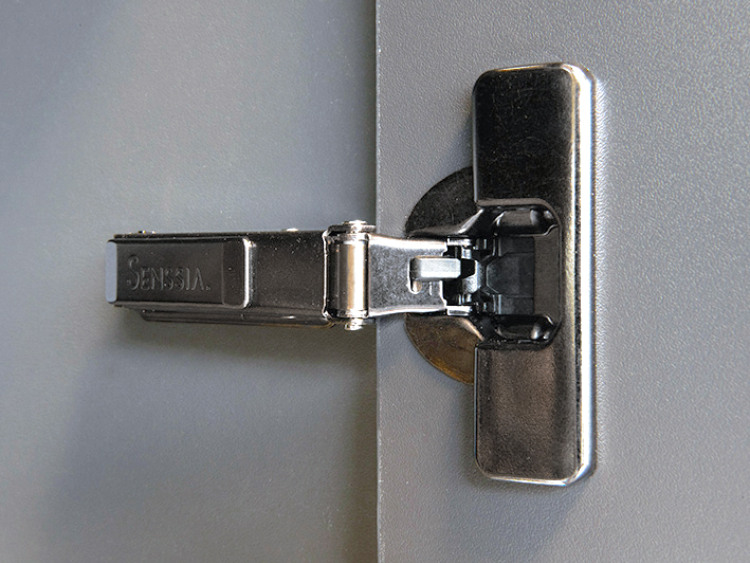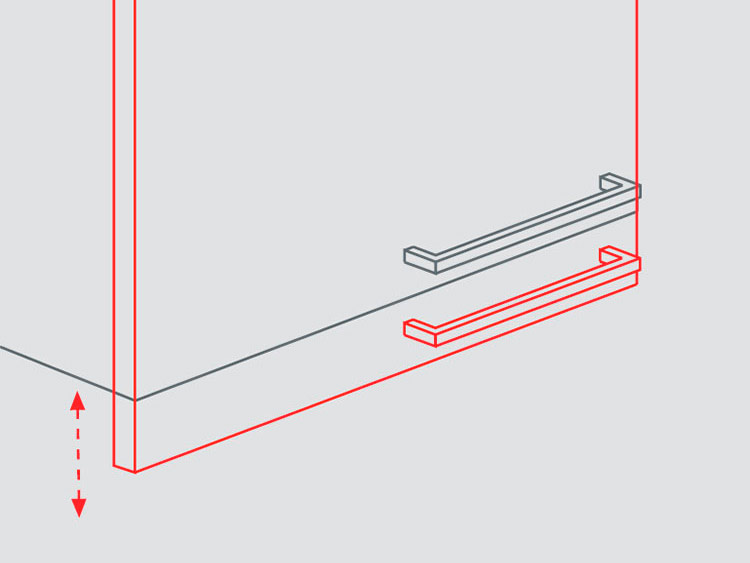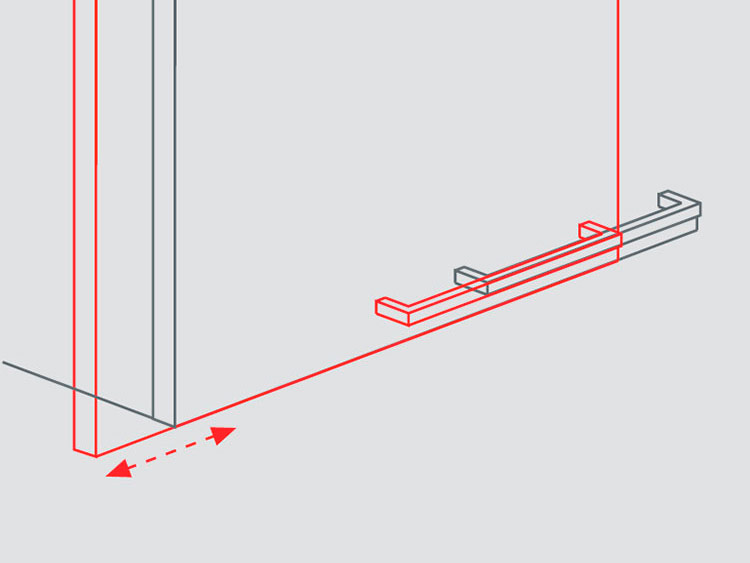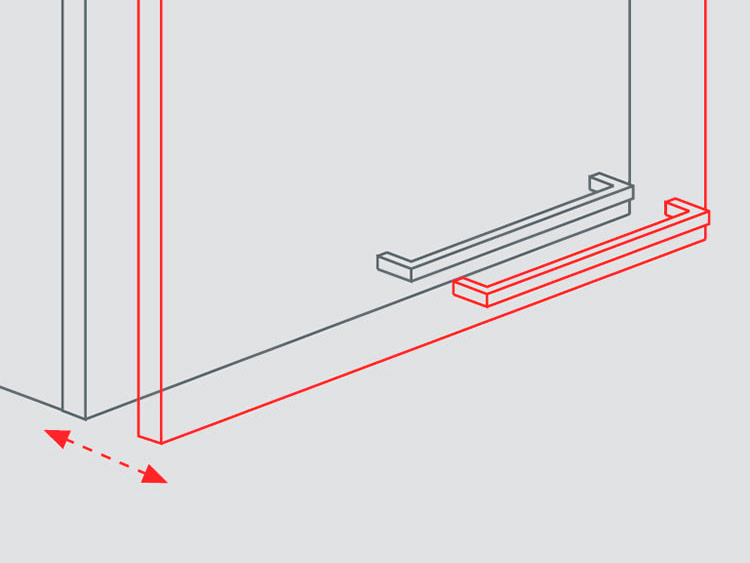 Hinges with three-dimensional adjustment
The hinges are responsible not just for how the doors perform and open but also for your kitchen units remaining properly installed, with all doors aligned throughout your kitchen's lifetime. Clip type assembly, rapid, solid installation requires no tools. Three-dimensional regulation.
Titanium finished, more elegant and extra protection against corrossion.