Designed for each home
In this section you will see all the door models available in our catalog.
In Senssia we have a wide range of doors to turn your kitchen into a unique space.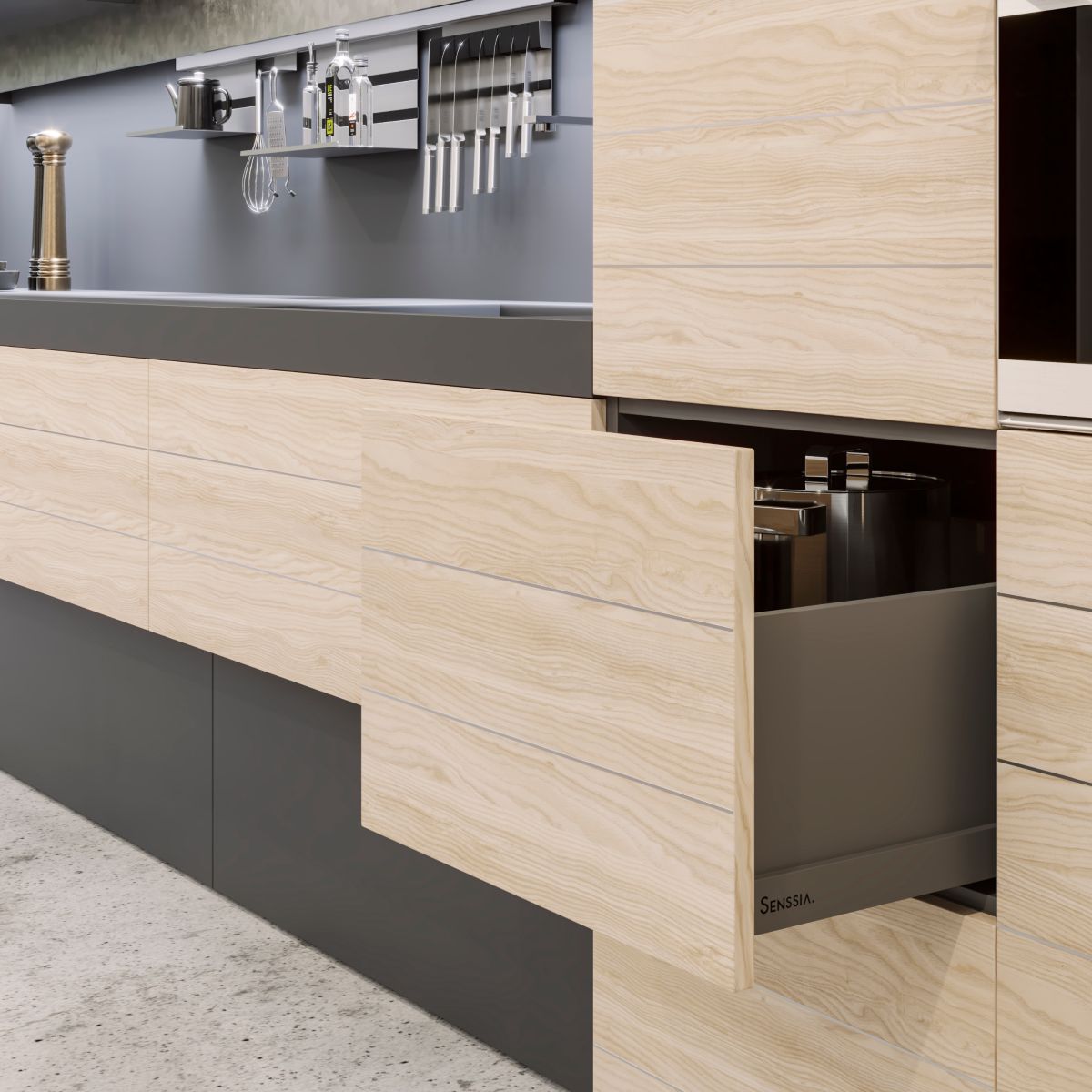 Arábigo
The Arabigo model stands out for its sophistication and strong aesthetic character. This door is designed with precision and care, paying attention to every small detail. The edges, carefully coated with ABS, provide additional robustness to the structure. The star detail is the anodized aluminum profile, inserted horizontally into the door structure. This profile is arranged in parallel lines that protrude slightly from the surface, providing an attractive contrast and a touch of distinction. With its polished, minimalist design, the Arabigo model brings an air of modernity and elegance to any kitchen.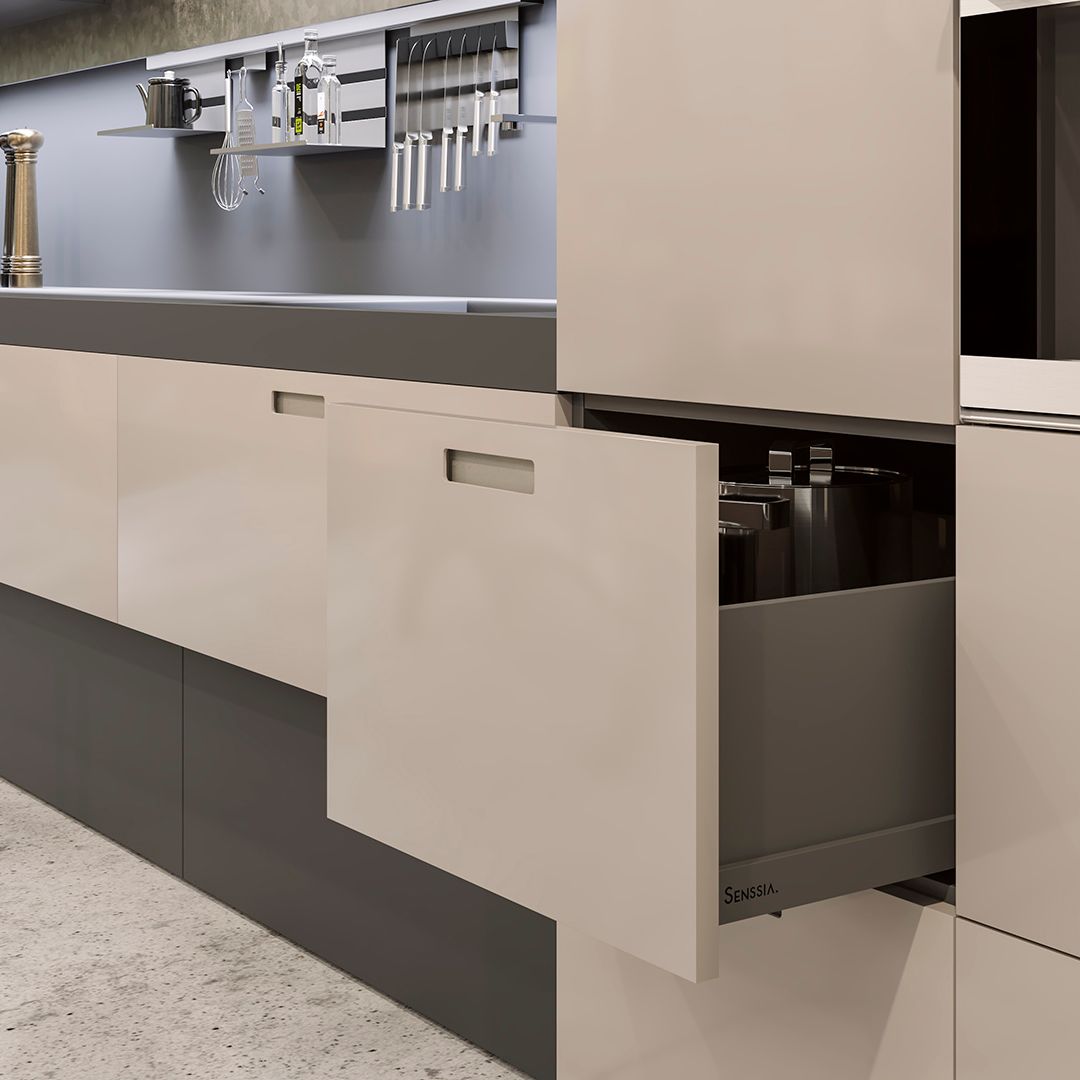 Aral XL
The Aral XL model is synonymous with modernity and sophistication. Made of lacquered MDF, it stands out for its integrated handle, whose position is carefully calculated to enhance its contemporary aesthetics. This handle, made of the same material as the door, also offers the possibility of customization with wood melamine and syncro laminate colors. No details are spared in its design: an aluminum structure and an elegant stainless steel plate on the inner side finish off this handle, providing a unique sophistication and elegance. With its balanced design and refined finish, the Aral XL model is the perfect complement to an avant-garde kitchen.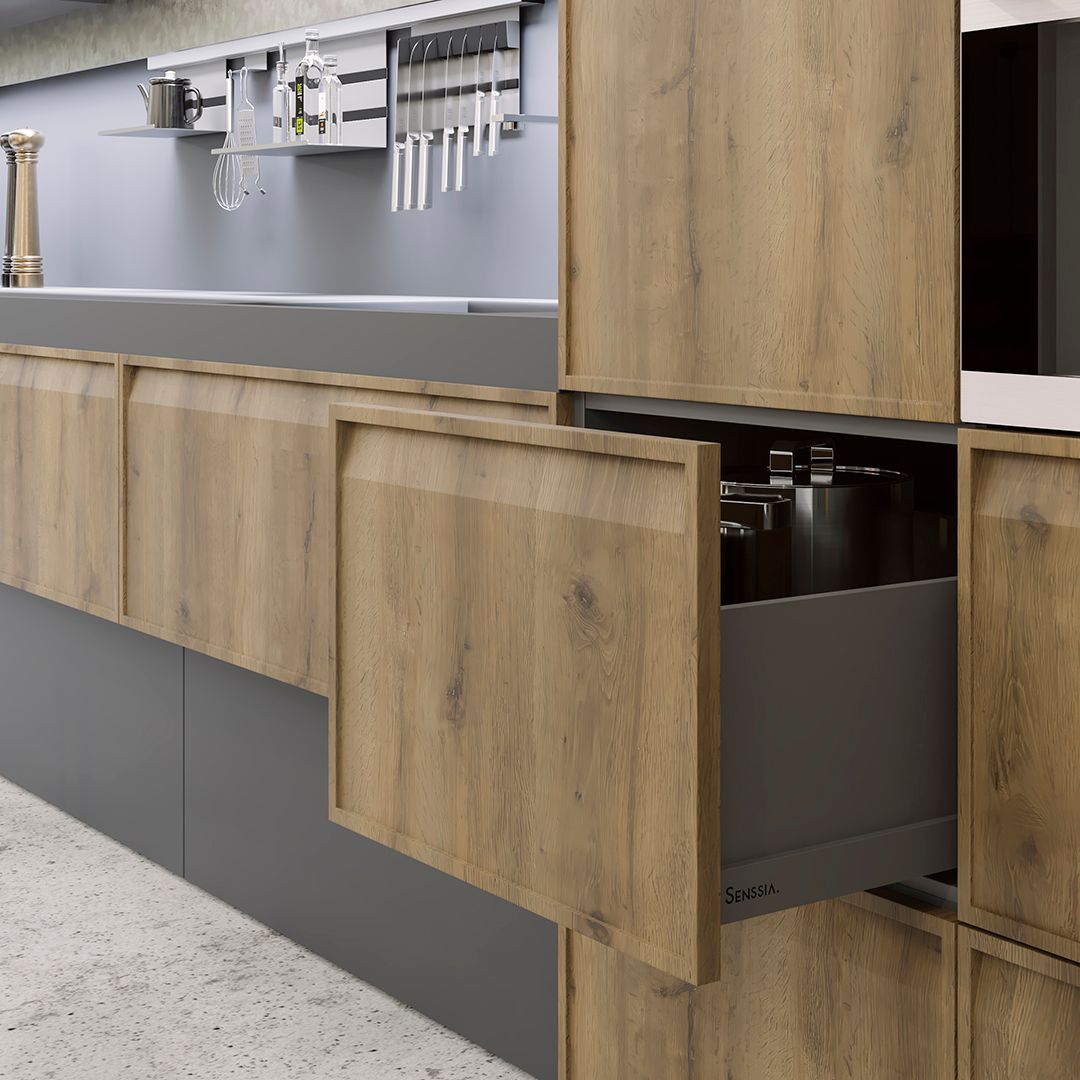 Caravaggio
The Caravaggio wooden door is a sublime example of craftsmanship and natural beauty. Its frame, crafted from walnut or French oak, adds unparalleled warmth and richness, while the veneered and vertically grained panel perfectly complements the overall design. The frame incorporates a milled handle on the inside, facilitating the opening and closing of the door. In addition, the panel is beveled to improve the ergonomics of the handle. With its balanced blend of functionality and style, the Caravaggio wood door is the perfect choice for those who value timeless elegance and lasting quality. The lacquered version of this model is also available for those who prefer a more contemporary finish.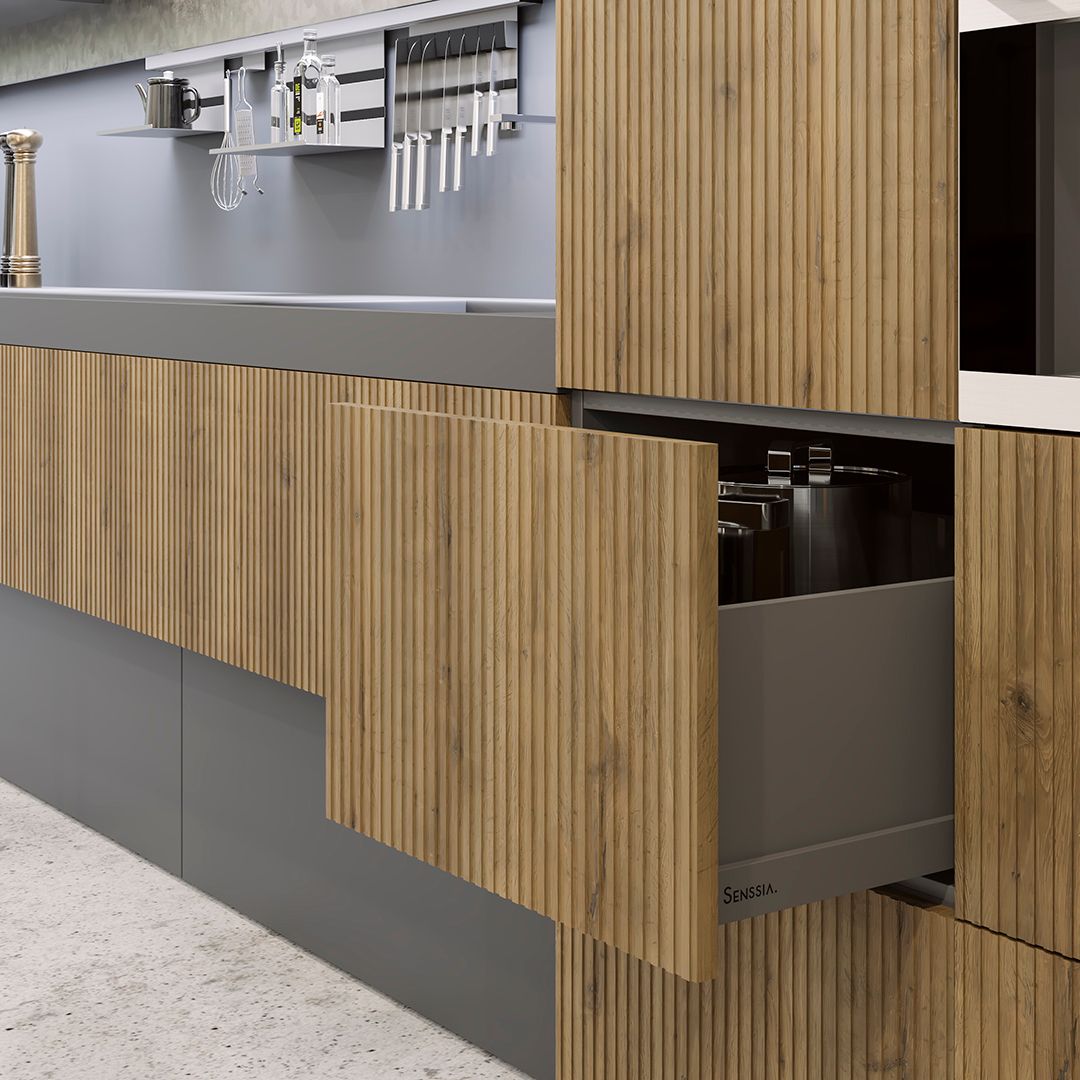 Coral
The Coral wood door is characterized by its meticulous workmanship and sophisticated design. Made with a central core of plywood, the door is laminated on both sides with an exquisite walnut wood that highlights its natural beauty. The front of the door features a series of precise machining at regular intervals, providing a unique effect of texture and depth. This distinctive feature further enhances its aesthetic appeal, creating a piece of furniture that fuses tradition with modern aesthetics. The Coral wood door is the perfect choice for any kitchen that aspires to a balance between the warmth of classic and the freshness of contemporary. A lacquered version of this model is also available for those who prefer a more modern and polished finish.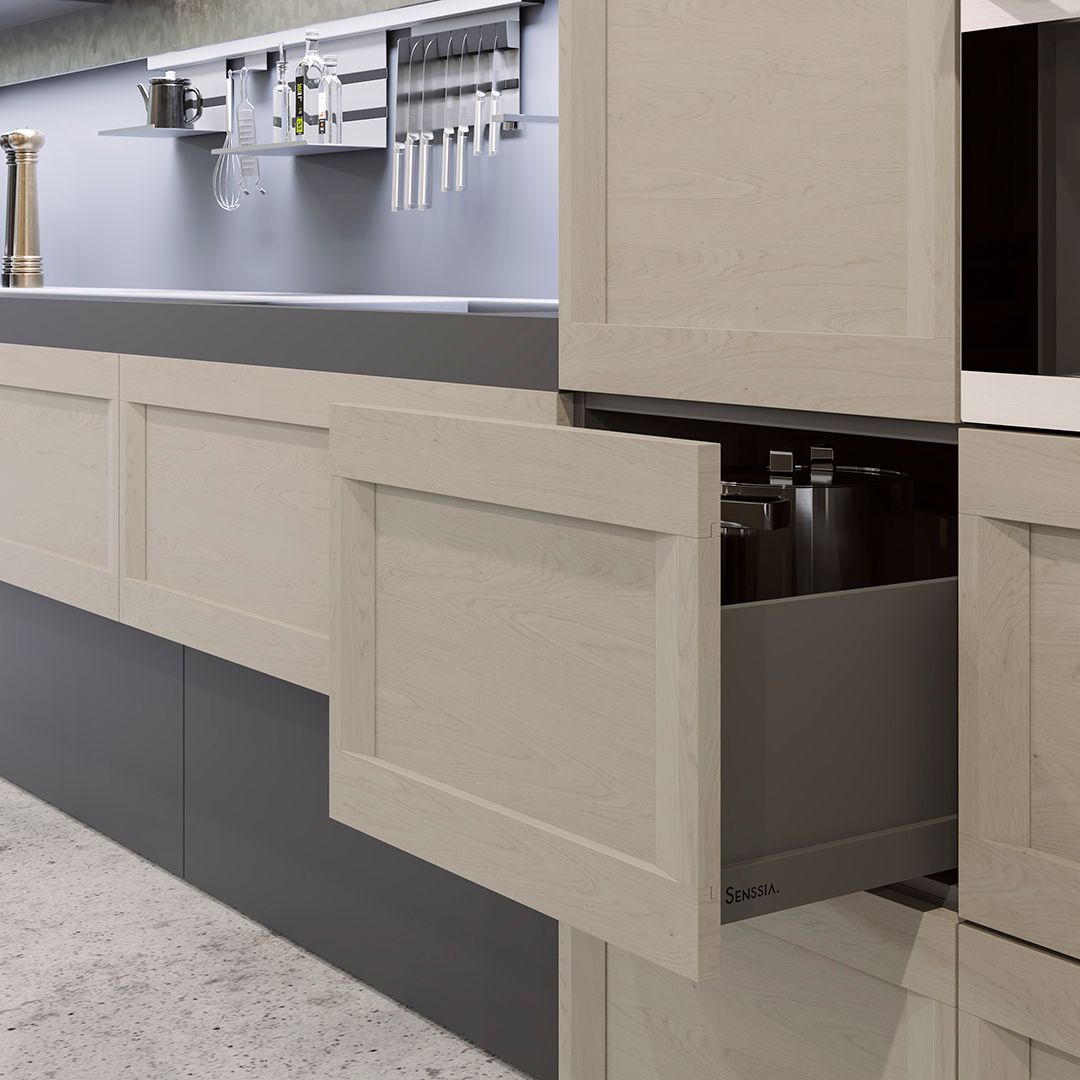 Everest
The Everest door, like the majestic mountain that gives it its name, combines strength and elegance. Its sturdy frame, made of fine French oak, gives a feeling of solidity and unsurpassed beauty. The veneered, horizontally grained panel adds a touch of authenticity and grace to the design. The internal longitudinal beams end with a wide bevel that gives personality to this model. In addition, the sleepers extend straight across the full width of the door, and one of them incorporates a milled handle, fusing functionality with style. The Everest door is a design that exudes character and sophistication.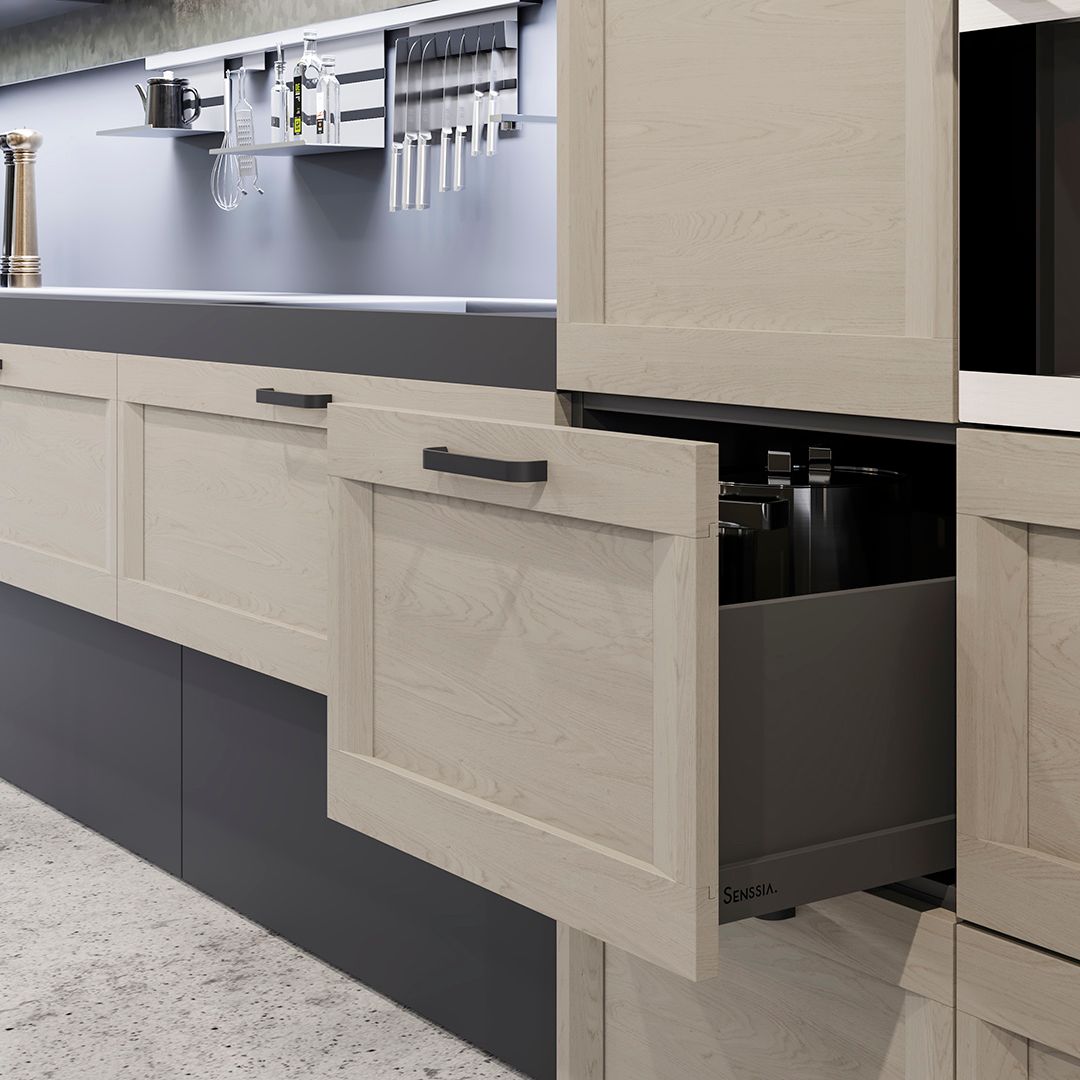 Everest ST
The Everest ST model captures the elegance of minimalism and the warmth of natural elements. This door is manufactured with a solid French oak wood frame 70mm wide and 22mm thick, guaranteeing durability and style. The 8 mm panel, delicately veneered with horizontal grain, provides a rich and dynamic visual texture. The interior side members end in a wide bevel against the panel, giving a distinctive feature to the model. The sleepers maintain a straight format that extends the full width of the door, creating a sleek, modern silhouette for today's kitchen.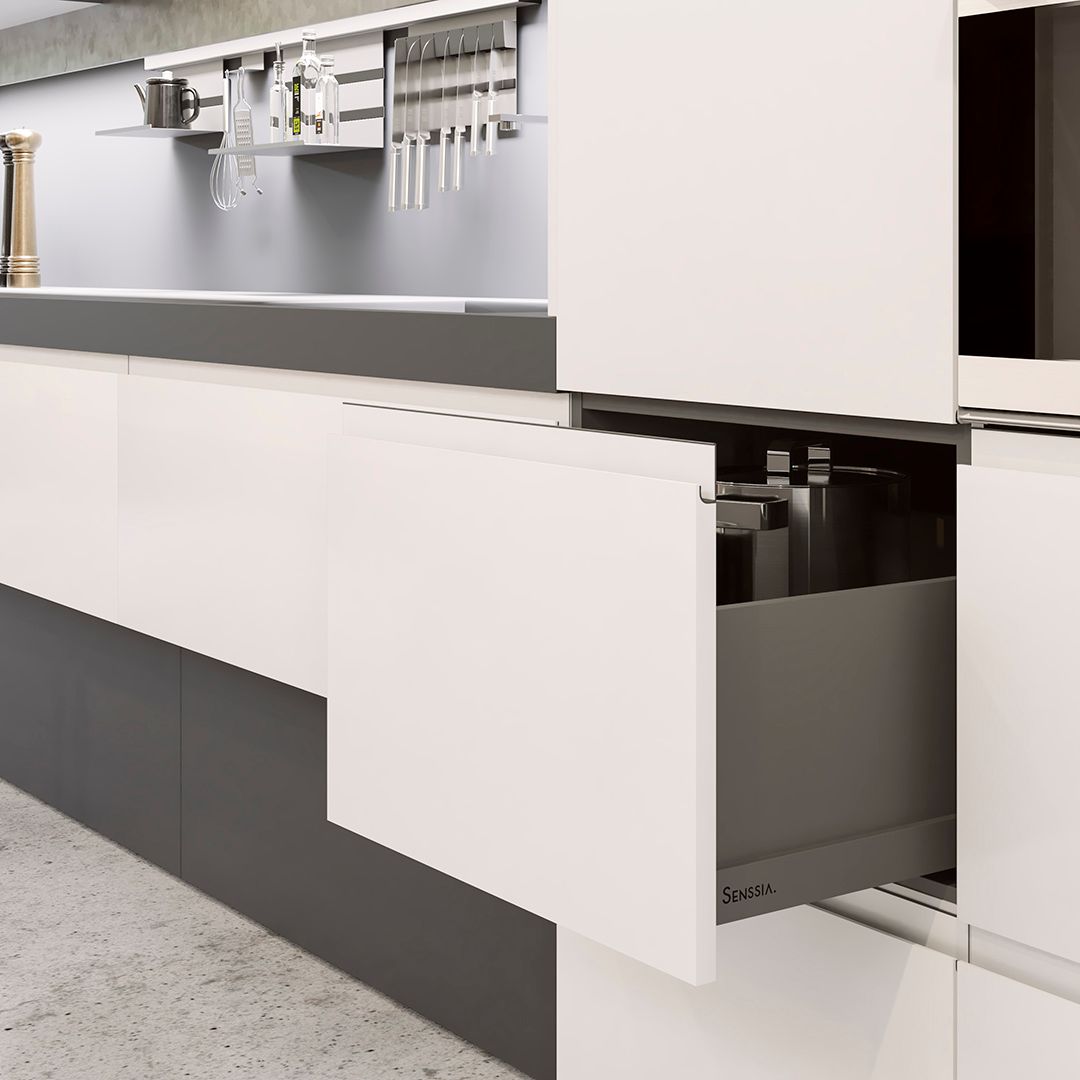 Fussion
The Fussion model is the embodiment of elegant simplicity and modern functionality. This door is created from a solid 19mm thick board that ensures robustness and durability. A unique detail of this door is its machined horizontal edge where an anodized aluminum profile with a matte finish is inserted, which serves as a handle. This handle, which extends along the entire width of the door, can be cased in any material of the model, allowing a customization that ensures aesthetic coherence with the rest of the kitchen.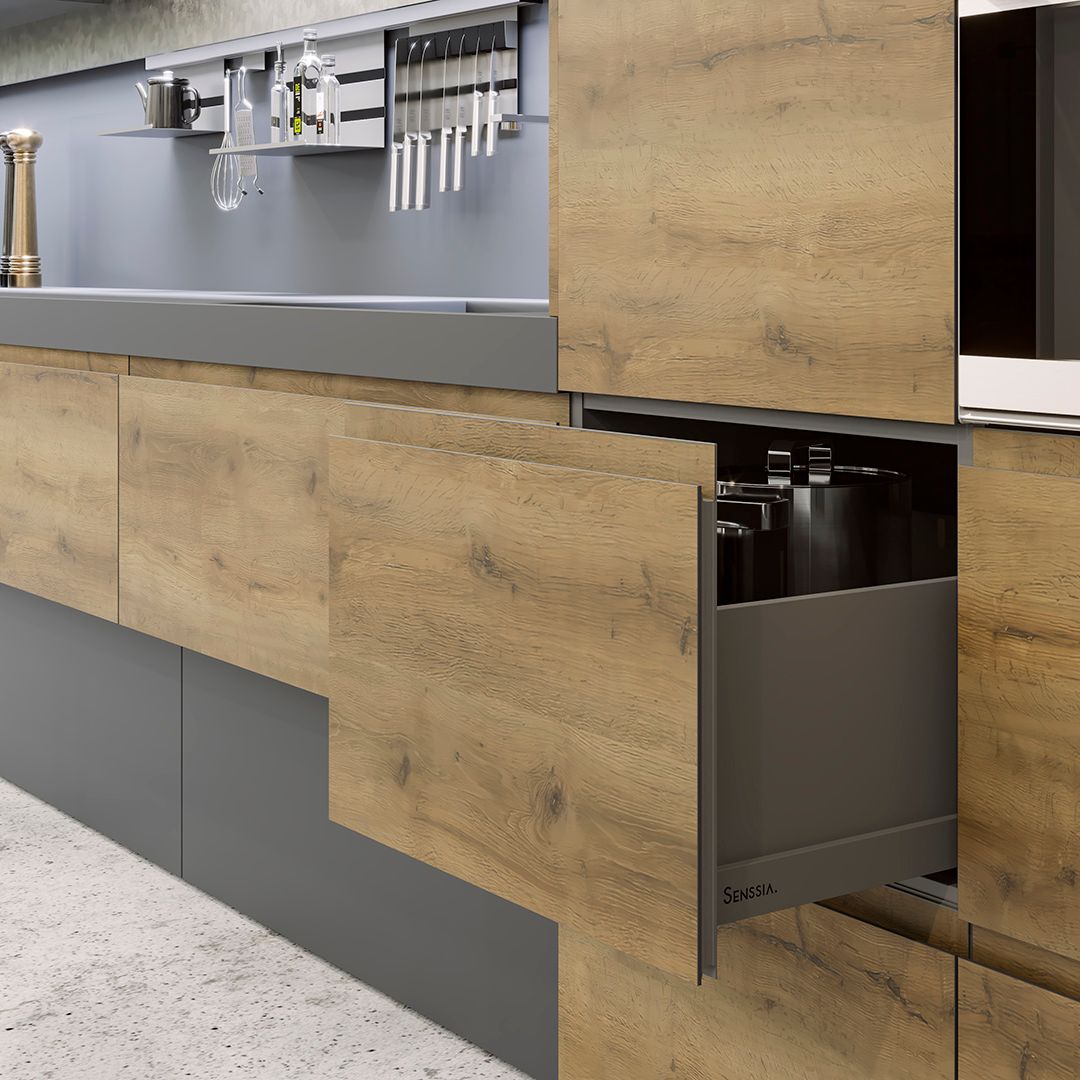 Fussion AL
The Fussion AL model blends contemporary minimalism with meticulous attention to detail. This door is constructed with a sturdy 55mm wide and 15mm thick frame, made of matte anodized aluminum for a modern and elegant touch. A 4mm panel is precisely adhered to the frame, leaving its four edges exposed to accentuate its clean, crisp aesthetics. The design is completed by a handle integrated into one of the frame sleepers, which extends across the entire width of the door and can be clad with any of the model's materials for perfect visual consistency.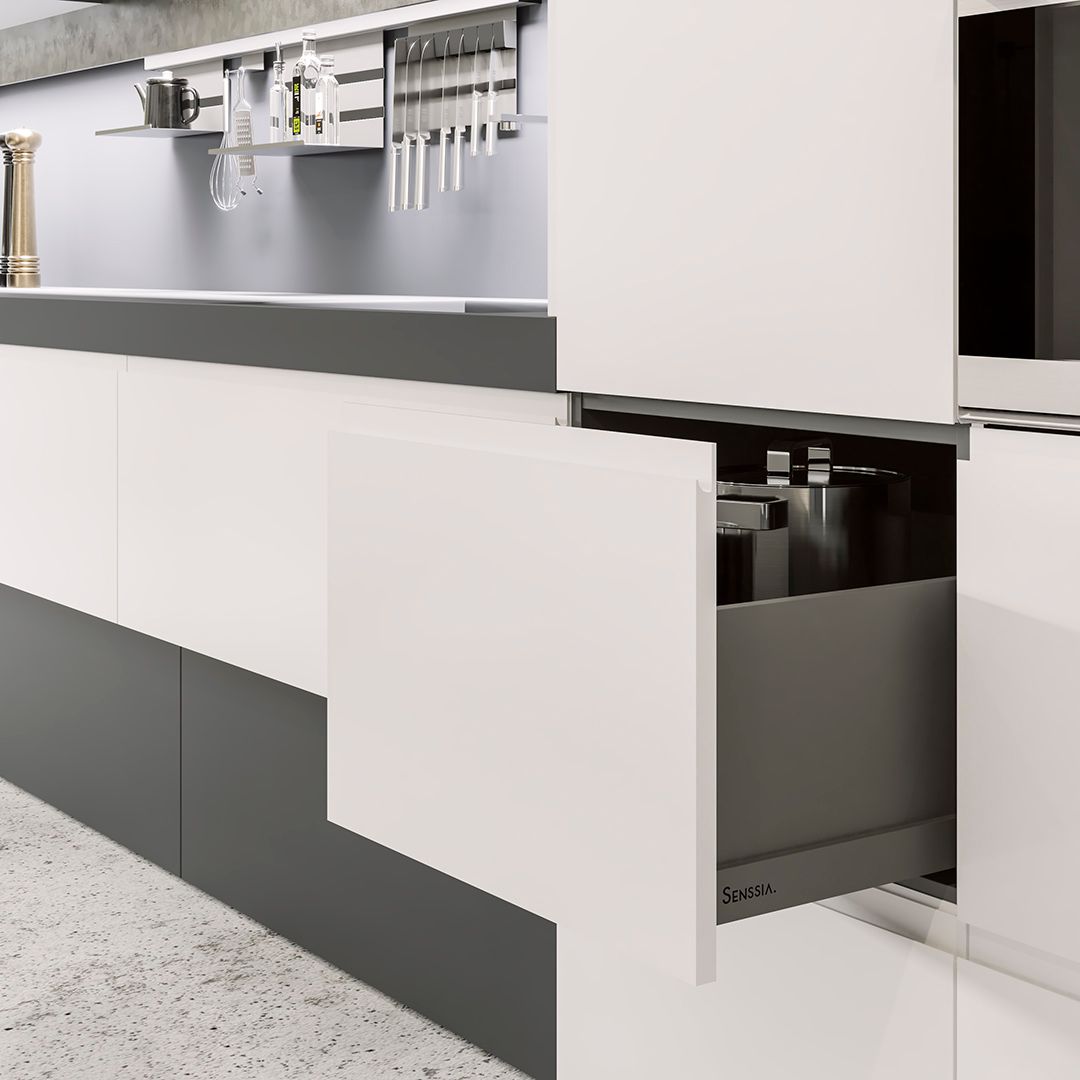 Fussion XL
The Fussion XL model combines a sophisticated design sense with a focus on functionality. This door is manufactured with a resistant 22mm thick lacquered MDF board, standing out for its robustness and polished finish. An ingeniously integrated handle in the form of a finger-nail has been cleverly integrated into one edge of the door, horizontally. This detail has been meticulously designed and machined to provide the best ergonomic experience, making it easy to handle and adding a touch of modern elegance to the whole.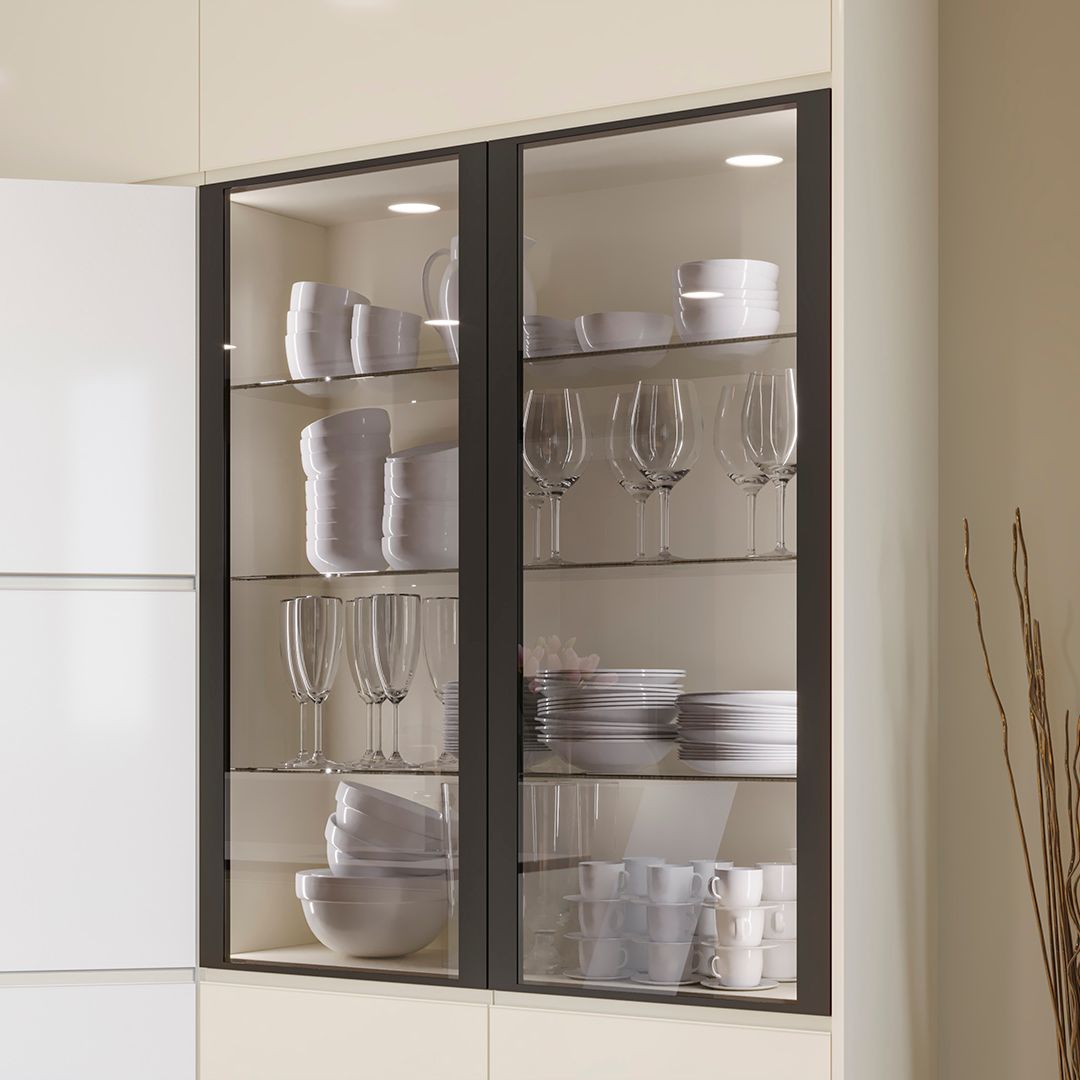 Khalo
The Khalo door is a masterpiece of design and functionality. It is carefully constructed with two sturdy beams that incorporate an elegant inner bevel, serving as a practical and discreet handle. The upper and lower ends of the door are finished with a screwed profile, which provides a sophisticated and precise finish. All profiles are made of anodized aluminum in a deep black tone, which contrasts beautifully with a central glass. This glass, in addition to providing a feeling of lightness, is a modern feature that allows you to play with light and reflections. Khalo is undoubtedly the perfect choice for those seeking a balance between contemporary and functional.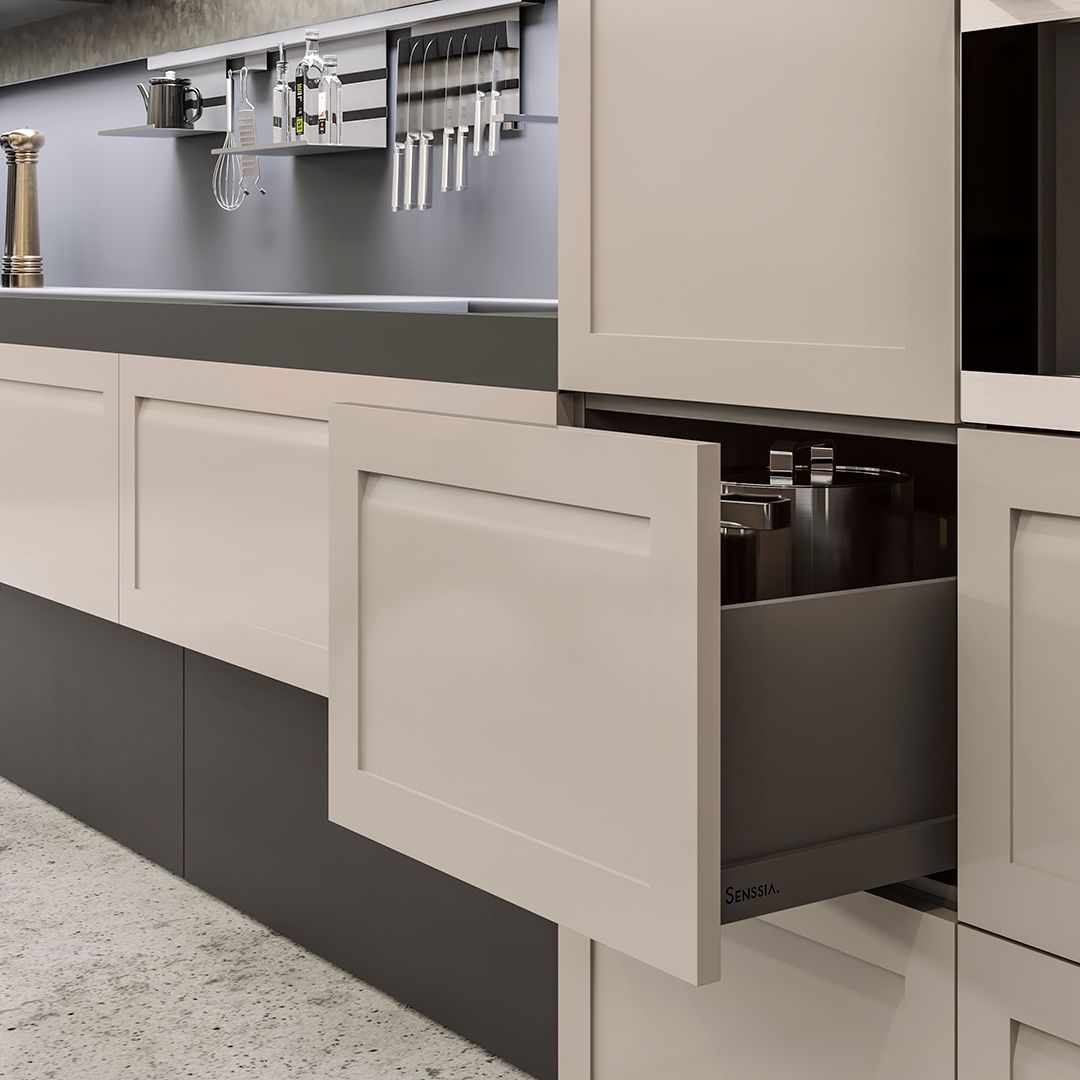 Manet
The Manet door offers a unique, polished aesthetic, combining minimalist style with high-end functionality. It is made of thick lacquered MDF board, offering a smooth and sophisticated finish. The presence of the generously sized frame gives the door a strong and defined personality. Its panel is delicately positioned below the level of the frame, creating a play of depths that will capture everyone's attention. What makes Manet truly special is its milled handle, elegantly integrated into the inside of the frame and recessed into the panel, ensuring smooth and comfortable door opening and closing. The Manet door design brings a touch of modern sophistication to any kitchen.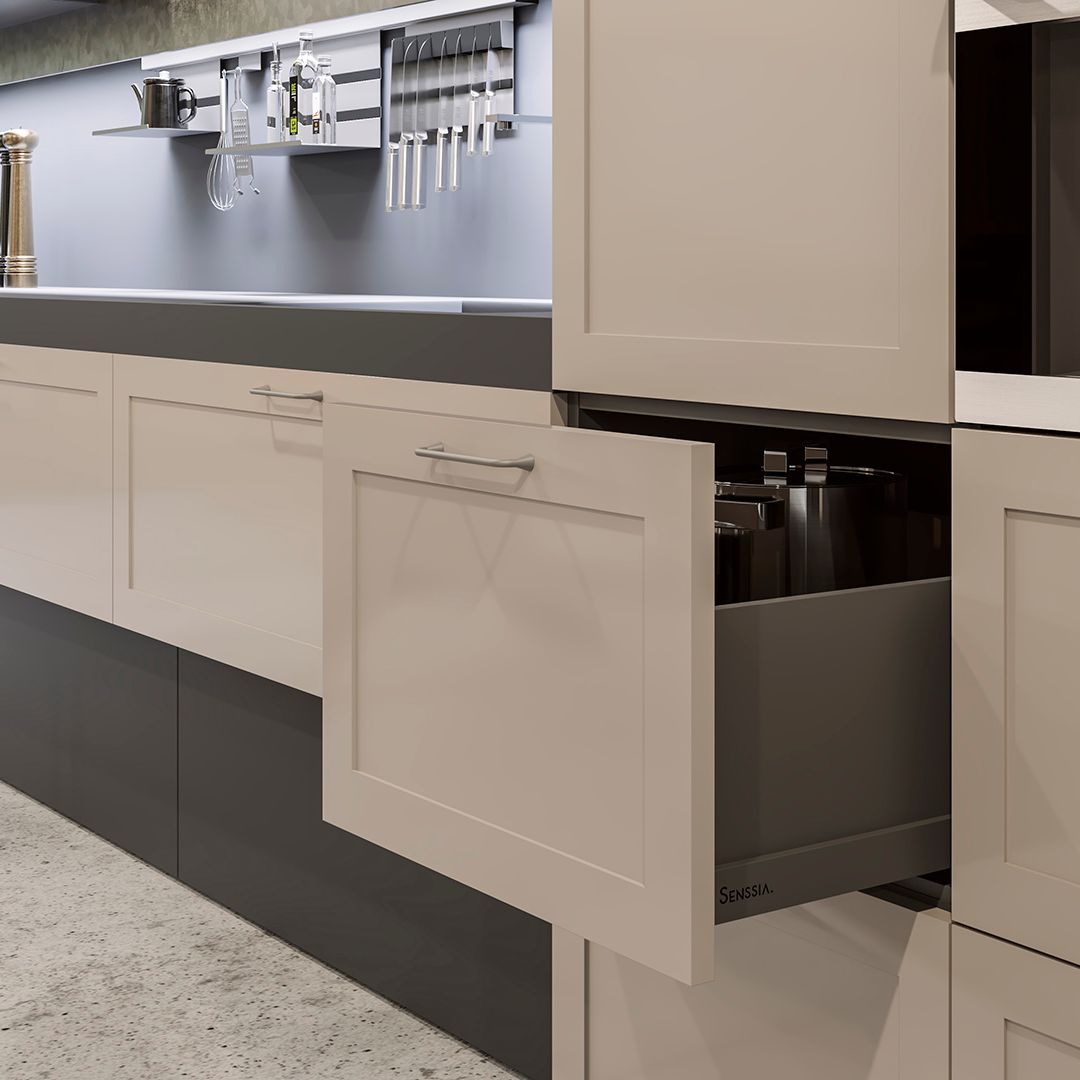 Manet ST
The Manet ST model is an ode to simplicity and style. This door, made from solid lacquered MDF board, features a single, seamless piece that exudes a clean, modern aesthetic. The design is characterized by a prominent frame that frames the shelf, which is slightly recessed from the frame, creating an interesting interplay of depths. This arrangement brings a subtle visual texture and a sense of refined craftsmanship to your kitchen. In short, the Manet ST door is a sophisticated option for those seeking a modern and minimalist design.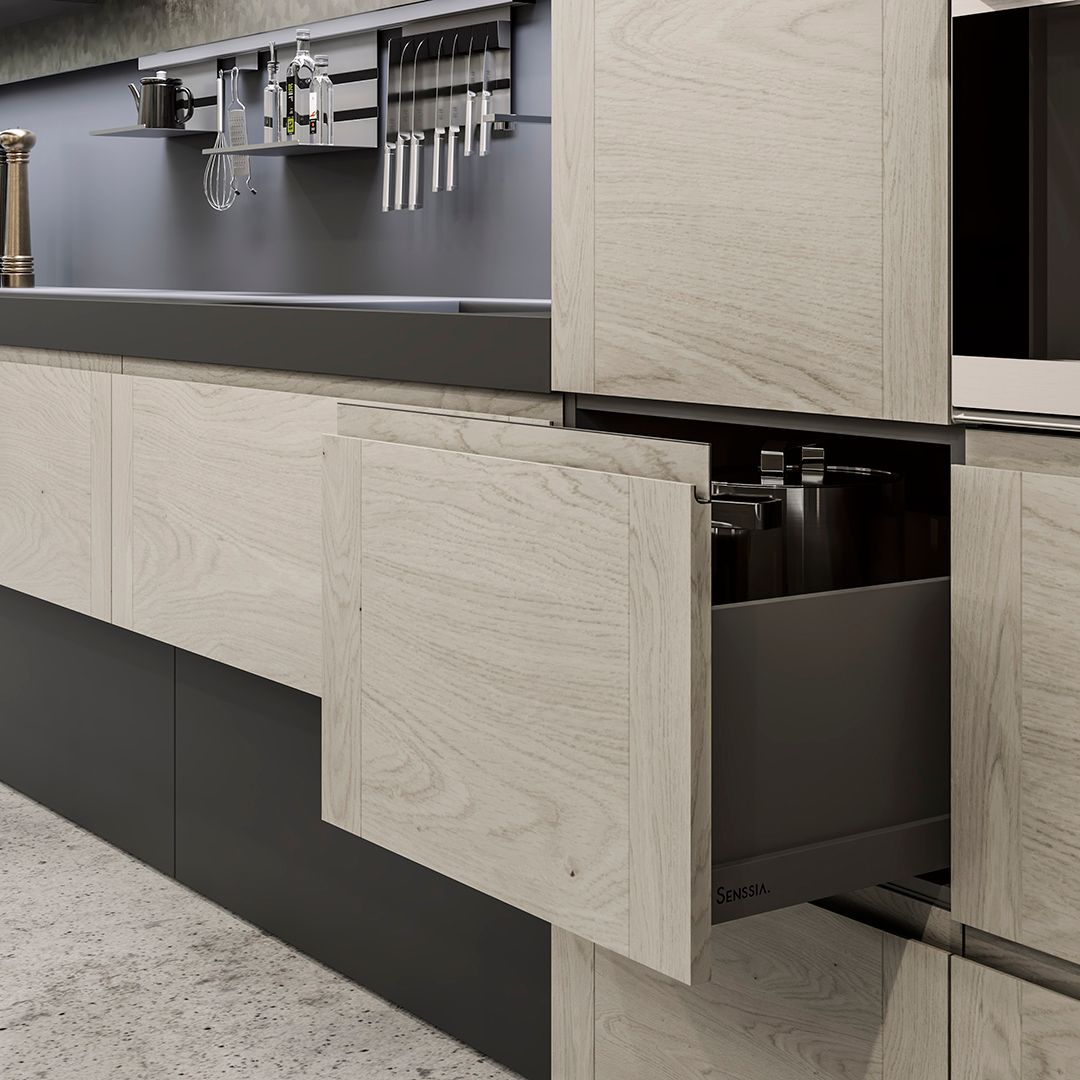 Matisse
The Matisse model presents an elegant and stylized door design, where the contrast and cohesion between the different elements generate a visually attractive aesthetic. The door is composed of a central panel and two beams on both sides. For a touch of subtle sophistication, the grain of the panel runs horizontally, while the rails feature vertical grain, creating a counterpoint of textures. To ensure a clean and resistant finish, all door edges are edged with ABS. The door handle, a seamless integration of function and design, is a matte-finished anodized aluminum profile that is aligned end-to-end, providing a smooth and ergonomic opening experience. In short, the Matisse model embodies a contemporary and refined approach to kitchen design.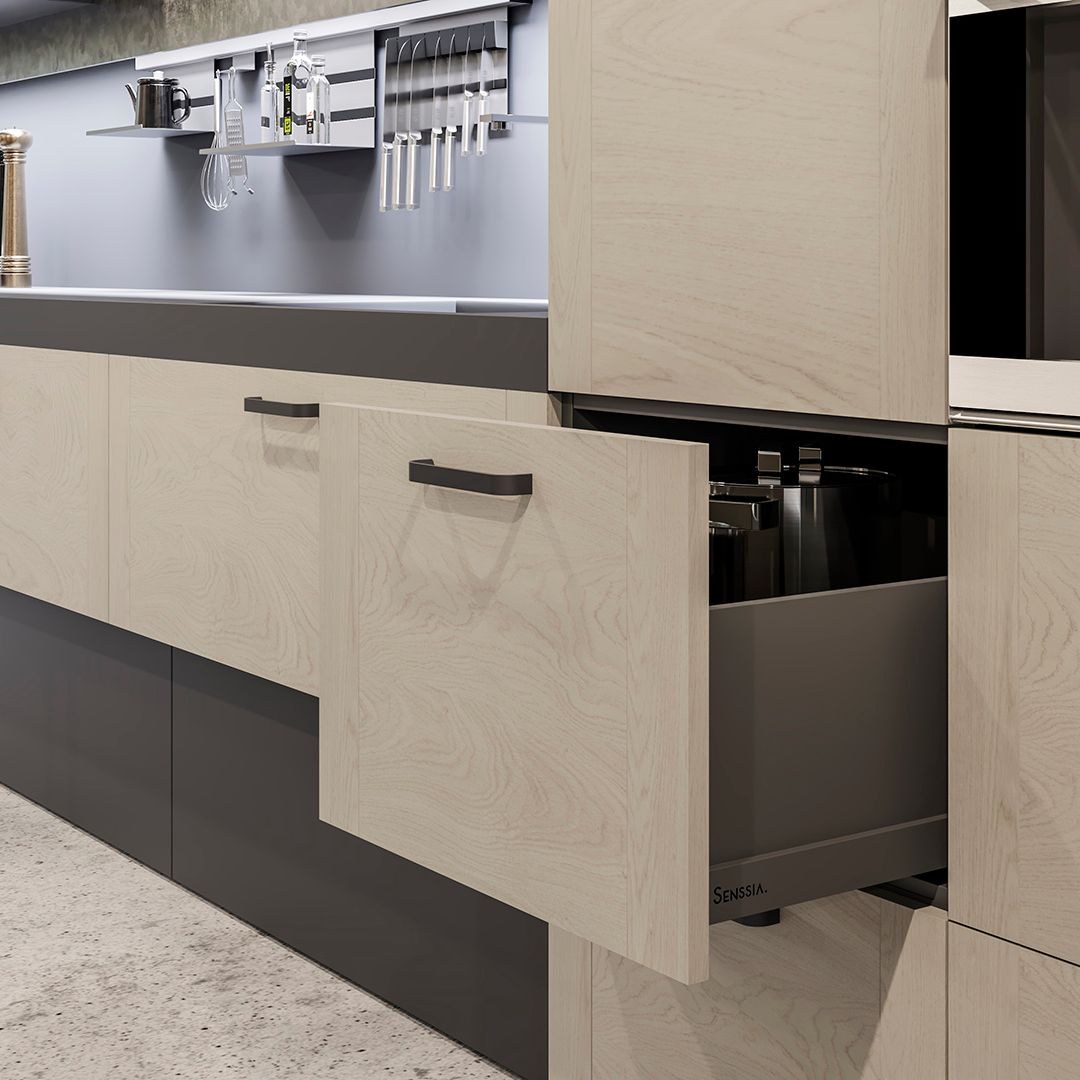 Matisse ST
The Matisse ST model offers a modern take on classic elegance in kitchen design. The door is composed of a central panel, flanked by two side rails, each with a different grain direction for a unique visual contrast. The manufacturing process involves meticulously edging the stringers and the panel before assembly, ensuring a smooth and precise finish. Finally, the four outer edges are edged, providing a complete and resistant appearance. Each edge is coated with ABS for durability and wear resistance. The result is a design that balances the beauty of minimalism with the robustness necessary for a functional kitchen.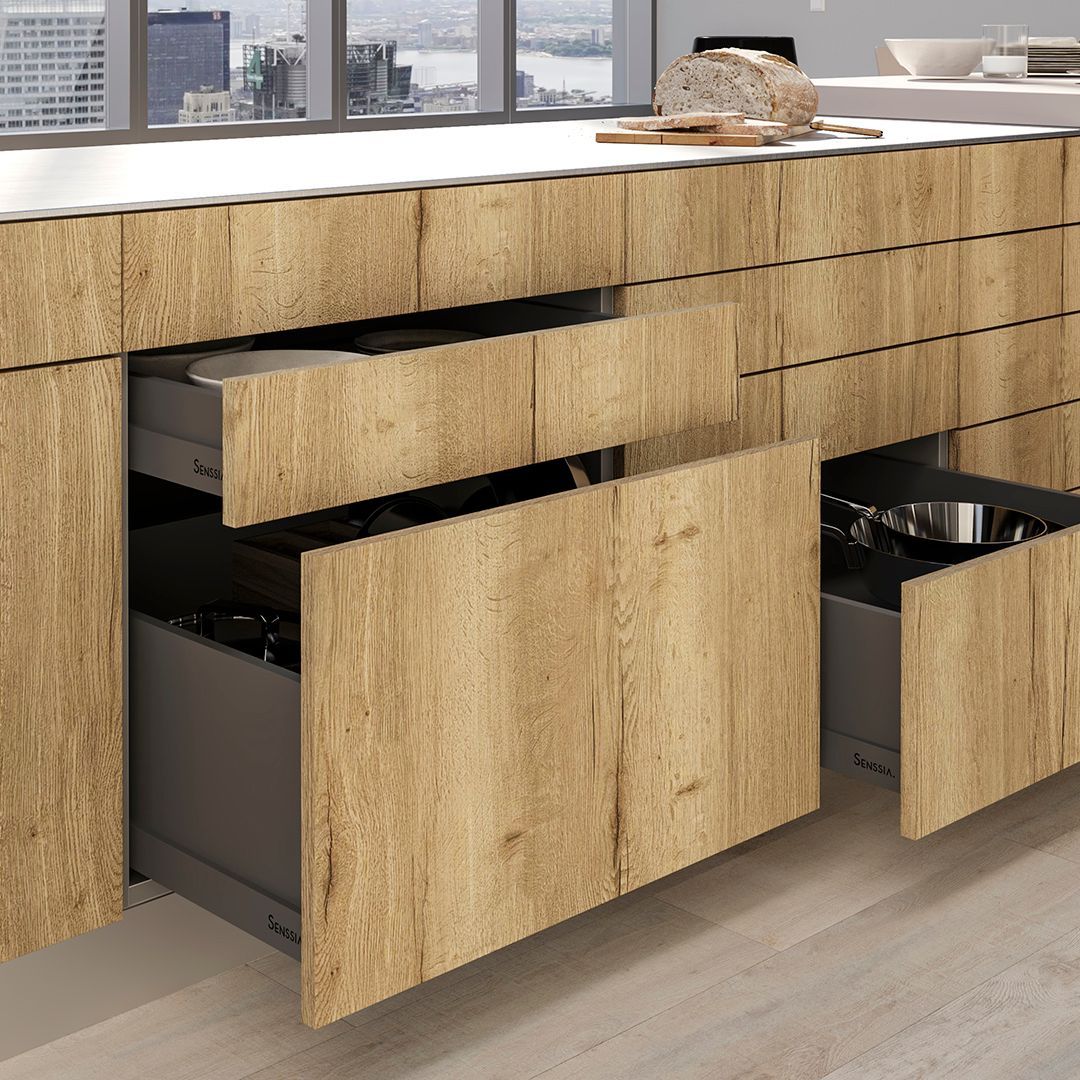 Mediterraneo
The Mediterráneo is a classic at its best, offering a pure and simplified style. Manufactured from a sturdy board, the door features a completely smooth, unadorned design, complete with four 90-degree straight edges. This combination results in a door with a contemporary, minimalist aesthetic that integrates perfectly into any kitchen environment, bringing an air of serenity and balance.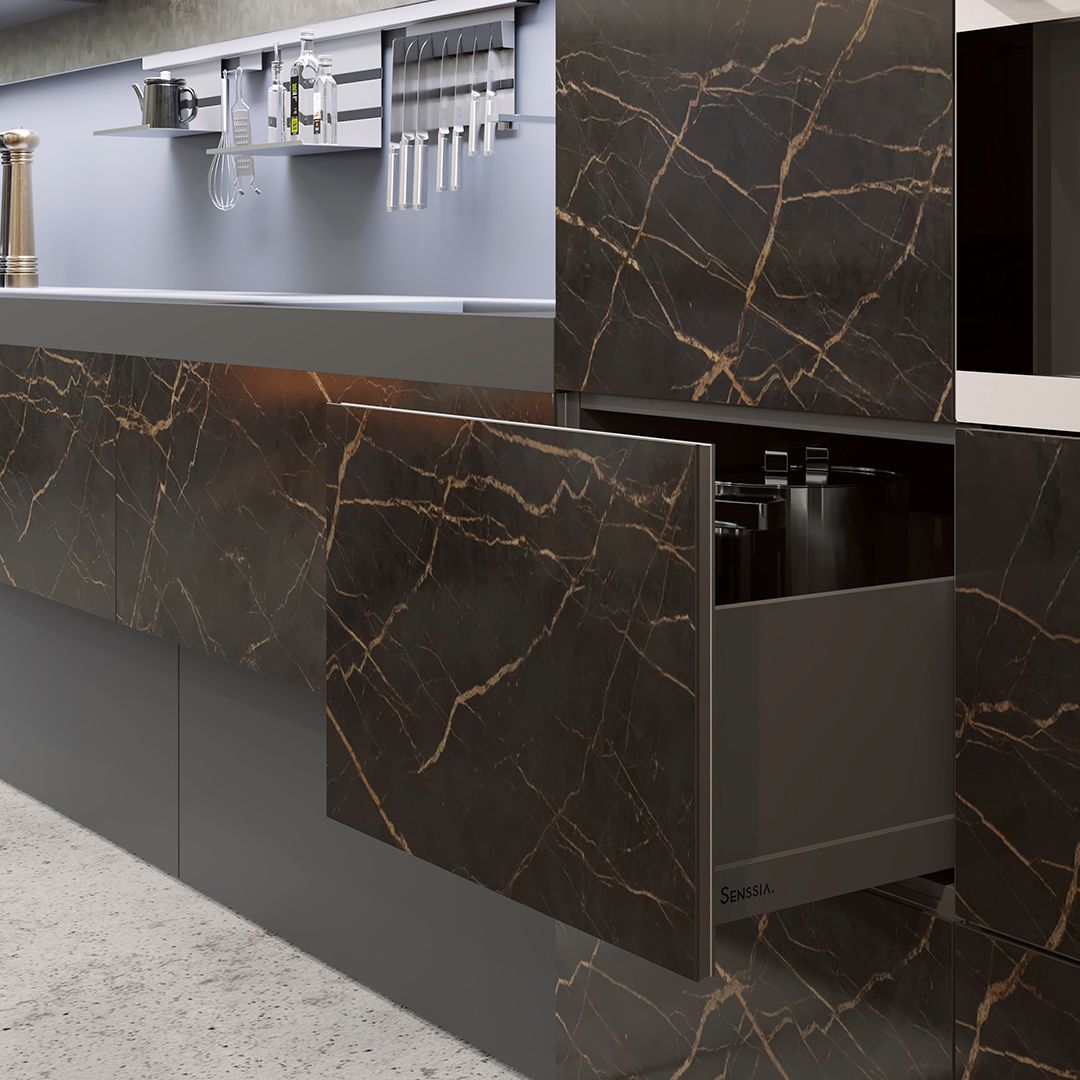 Mediterraneo AL
The Mediterráneo AL model redefines contemporary aesthetics, combining the strength of aluminum with a minimalist design. The door is constructed with a wide matte anodized aluminum frame, which frames a panel subtly glued over it. The four edges of the panel, in open exposure, create a floating appearance that aligns perfectly with the frame. The result is a kitchen door that impresses with its simplicity and elegance, adding a touch of modern sophistication to any home.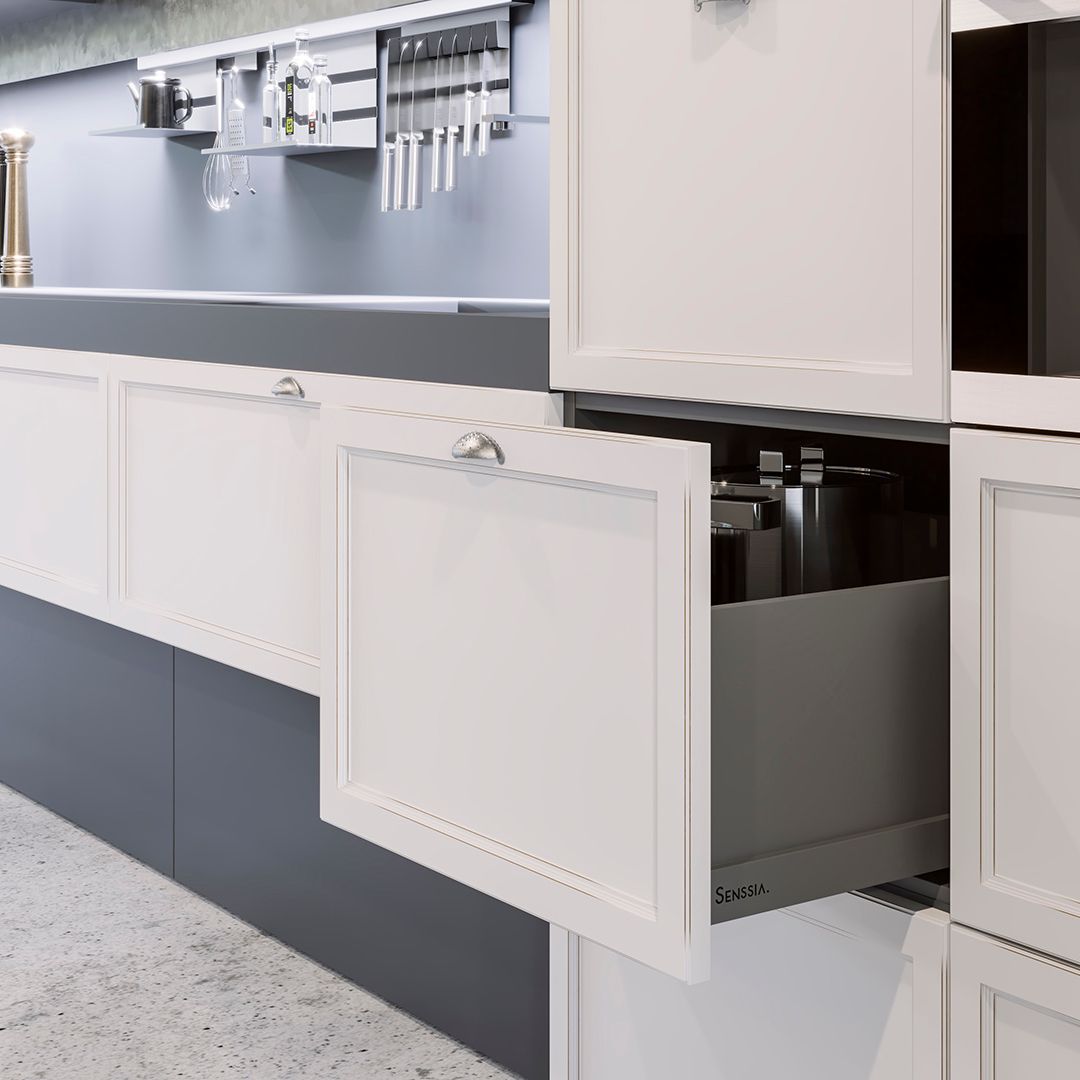 Teide
The Teide model combines tradition and modernity in an exceptional kitchen door. Manufactured with a lacquered MDF board, the door is presented as a single piece with a frame enriched by a stepped interior molding. This molding meets with a plain spandrel, adding depth and detail to the design. But the real charm of Teide lies in its finish. Once the color is applied, it is intentionally weathered to reveal the underlying MDF. This effect, along with a final coat of clear lacquer, results in a beautiful aged look, giving the kitchen an air of history and sophistication that never goes out of style.
Tizziano
The Tizziano model is a refined testimony of elegance and style, capable of elevating any kitchen design. The door is made of lacquered MDF board, presented as a single piece that integrates a delicate frame with an internal bevel. The panel is distinguished by its subtle recess in relation to the frame, a detail that adds an intriguing depth to the whole. With its combination of simplicity and sophistication, the Tizziano model promises to be an aesthetic focal point in any contemporary kitchen.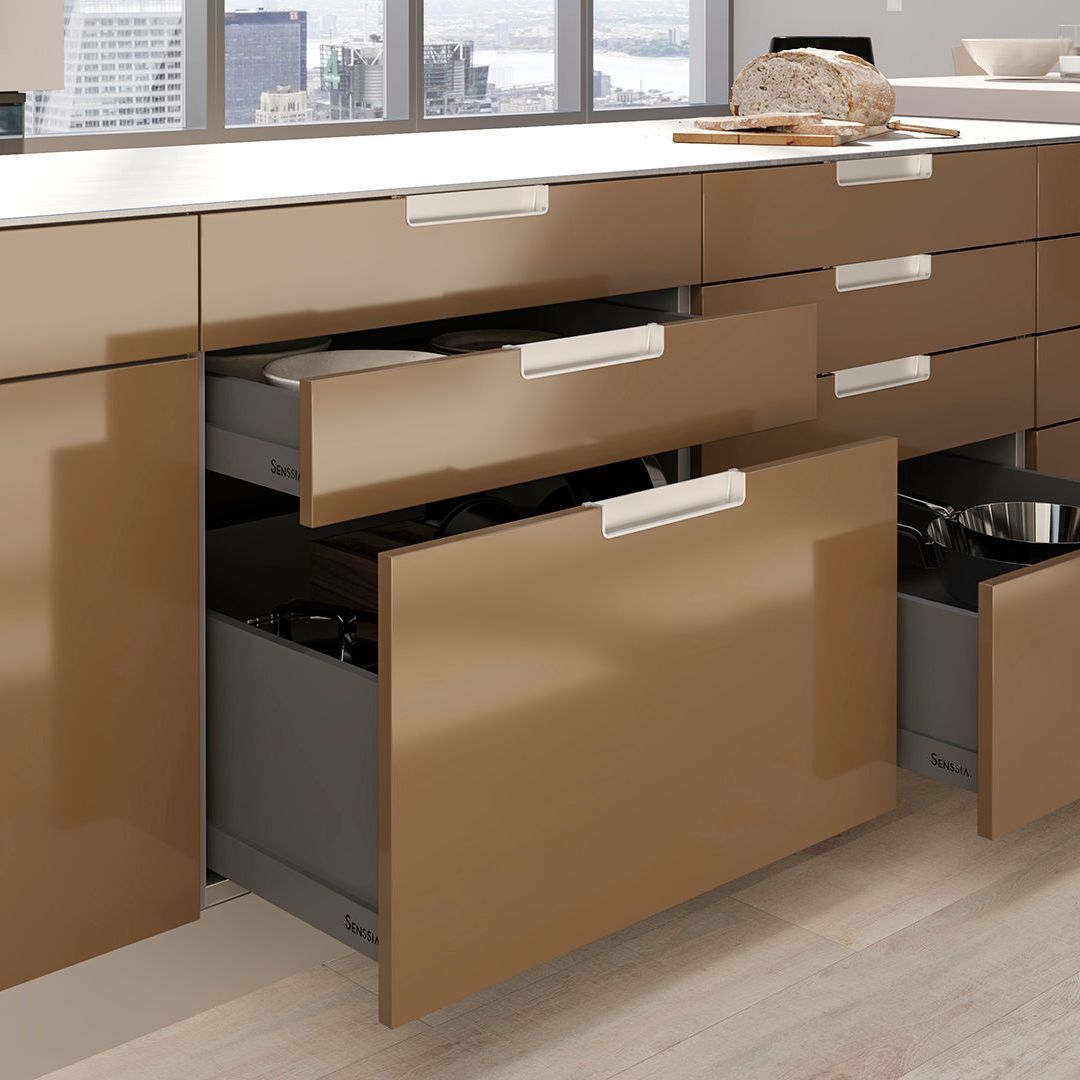 Tracia
The Tracia model conveys a harmony between modernity and functionality. This door stands out for its elegant zamac handle, polished with an exquisite brushed nickel finish. This element strikes a careful balance between the visible and the hidden, providing a stylized and clean horizontal edge. A design specially designed for when two doors share a common space, incorporating a hidden handle handle in one of them, thus achieving a seamless integration without interruptions. The Tracia model fuses innovative design with meticulous attention to detail.